In the Texans' transition from the 3-4 defense to a 4-3 alignment this off-season, general manager Charley Casserly knew the team would have a shortage of defensive ends and linebackers.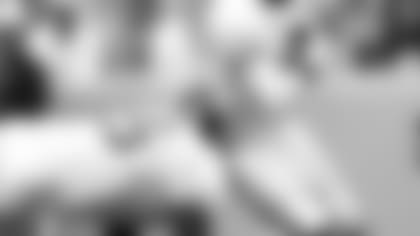 Two draft picks later, it's safe to say that those needs have been filled.
After selecting North Carolina State defensive end Mario Williams with the first overall pick, the Texans used their second-round choice (33rd overall) on Alabama linebacker DeMeco Ryans, the 2005 SEC Defensive Player of the Year.
"This is a player we thought could easily go in the first round," Casserly said. "I think the only reason he went in the second (round) is because there were a number of teams that were looking for a linebacker to fit a 3-4 scheme."
Ryans was following the draft closely from the first pick, so it was an anxious few hours while he waited for his name to be called.
"I was just happy to hear my phone ring. It was a great feeling," Ryans said of being drafted. "It's exciting to be part of an up-and-coming team, a new team. The Texans have a lot of upside to them."
The 6-4, 236-pounder led the Crimson Tide's highly touted defense last year with 76 tackles, including 9.5 for loss, and finished second on the team with 3.5 sacks. In his final three years in Tuscaloosa, he led the team in tackles twice (2005, 2003) and finished as a runner-up once (2004).
Some of the awards Ryans won following his senior year included 2006 Cotton Bowl Defensive MVP honors, Walter Camp first-team All-America accolades and the 2005 Lott Trophy, which is given annually to the nation's top defensive player.
"He's a tremendous young man," head coach Gary Kubiak said. "He was one of my favorite players, to be honest with you, going into this draft and just dealing with him in Indianapolis and evaluating him through this process."
In their evaluations of Ryans, Casserly and Kubiak always noticed him around the ball. That trait is something Ryans prides himself in.
"I was always taught to run to the ball, because when you run to the ball you make things happen," Ryans said. "I think my biggest strength is that I can come in and learn the system quickly. I have very good instincts and I can find the ball quickly and run around and make plays."
What separates Ryans from other linebackers in the draft is his ability to play in nickel packages. Kubiak doesn't expect him to come off the field in long-distance situations, which is a huge benefit to the defense.
"Being a third-down player is so important, and that's what this young man is," Kubiak said. "He will stay out there and will be a great third-down player. (He will) be able to cover the backside and the backfield when you want to bring him (on a blitz). He does an excellent job in rushing the passer off the edge."
In the past couple months, the Texans have added potentially four defensive starters, including Williams and Ryans as well as free agent linebacker Sam Cowart (Minnesota Vikings) and defensive end Anthony Weaver (Baltimore Ravens).
While he is slated to play outside linebacker, Ryans played all the linebacker positions at Alabama.
"I'm expecting him to come in and have an opportunity to start for our football team," Kubiak said. "It's going to be very competitive at that position for us, too."