You'll have to excuse Tony Banks if he's not swept up in all the quarterback hoopla in Houston this week.
"Sometimes you guys make me out to be an old man," Banks joked. "I'm only 30 years old."
Banks made the comment Wednesday amidst a throng of reporters stationed at his locker. Normally, all those cameras and tape recorders are camped out in front of David Carr's locker. But with Banks slated to replace the injured Carr as the Texans' starter this Sunday against Carolina, the eight-year veteran has now become the center of attention.
"As a backup you have to ready at any time," Banks said. "I'm anxious for this opportunity. There's no substitute for experience and I have a lot of that."
Banks has 75 career starts under his belt. No. 76 will be his first as a Texan but he appears unfazed by all the attention. The backup signal-caller always prepares to play, which means Banks has been preparing to play for Houston for 23 weeks now. It just so happens he backed up a quarterback in Carr who has been healthy until now.
"I feel very confident and very comfortable with Tony," head coach Dom Capers said. "I thought he did a very good job at Indianapolis of running our football. I think he's excited about the opportunity to play and I think all the guys on the team are very confident about Tony being a leader."
Banks looked sharp working with the first team outside today at practice. Dave Ragone backed him up, while Carr watched from the sidelines.
"Every quarterback has strengths and weaknesses," offensive coordinator Chris Palmer said. "We just have to figure out what Tony does best and what fits him. I think he'll do a good job."
As for the third quarterback? Look no further than the player with the best passer rating in club annals -- wide receiver Jabar Gaffney.
"Jabar's our emergency guy right now," Capers said. "He's got a heck of a quarterback rating for us right now based on the passes he's thrown the pass two years."
Gaffney completed his only pass last season for a 39-yard touchdown to wide receiver Corey Bradford at Cleveland. His one pass attempt this season fell incomplete.
"Gaffney thinks there's going to be a quarterback controversy," Palmer joked after practice. "He said by the end of the week he was going to have a single-digit jersey."
Meanwhile, defensive end Gary Walker is likely to miss his second consecutive game with turf toe.
"Walker we have in a boot," Capers said. "We have him listed as doubtful and I would say it's very doubtful that he would play. It will improve but he's going to have to stabilize the thing in the boot."
A television report Tuesday night started speculation that Walker might be done for the season, but Capers (and Walker [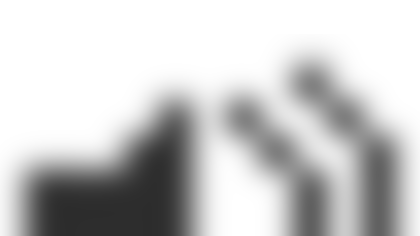 ](http://play.rbn.com/?url=nfl/nfl/open/2003/texans/demand/walkeraudio102903.rm&proto=rtsp)) say it's too early to speculate.
"There's some inflammation in there but right now I don't think it's anything that would require surgery," Walker said. "I think it's just a matter of rest. (The doctors) say the best thing for him is to stay off of it and let that inflammation clear up."
Linebacker Charlie Clemons, who missed last week with an ankle injury, ran with the trainers but did not practice. Ditto for cornerback Jason Bell (knee). Tight end Rashod Kent missed practice with a calf injury.