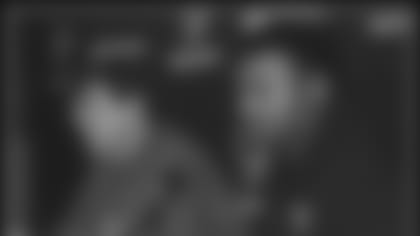 Texans general manager Charley Casserly talks about LB Jay Foreman's future with the Texans.
Just a few days into free agency and the Texans have taken care of two important business matters. One, the offensive line, the other, keeping a strong linebacker corps in tact.
The organization nailed the latter after signing defensive signal-caller Jay Foreman to a five-year contract.
"We were going to solve right tackle in free agency in retaining our own or going elsewhere," Houston general manager Charley Casserly said today about the Texans goals. "There isn't really a priority because you can't control what happens. But retaining Jay was very important to us and like I said, sometimes you have to go through a process. Jay hasn't reached his peak yet. Jay is just beginning the best part of his career."
Foreman just completed the fourth year of his NFL career, leading the Texans defense in tackles with 193 while his number 56 jersey could be seen right in the middle of defensive action on every play. It was a breakthrough season for the inside linebacker, whose 2002 season total eclipsed his entire career total of 155 in three seasons with Buffalo.
"I didn't know a lot about Jay when he first came to us but it didn't take me long to figure out the kind of worker Jay was and he turned that into a very productive football season his first year," head coach Dom Capers said at a press conference today. "We're extremely excited as a coaching staff to have Jay with us."
Foreman was acquired in a trade last April with Buffalo, in exchange for running back Charlie Rogers. The Texans were in need of young, athletic linebackers and Foreman fit the bill. He was first noticed during his college playing days at Nebraska and was chosen in the fifth round of the 1999 NFL Draft. It wasn't until his arrival in Houston though, that Foreman really came into his own and had the opportunity to show his true potential.
"As a fifth round draft pick, you have to fight and scratch your whole way," Foreman said about his four years in the NFL. "It was an uphill battle for me but my best years are ahead."
He impressed the coaching staff as well as Casserly with his professional demeanor and outstanding work ethic.
"He's a class-act here in the locker room," Casserly said about Foreman. "He's everything you want on and off the field and I think those are important things too, because in the end, you have to have character to win and Jay is one of those character guys."
The Texans got their man and Foreman was able to remain where he wanted to be all along, in his new home, Houston.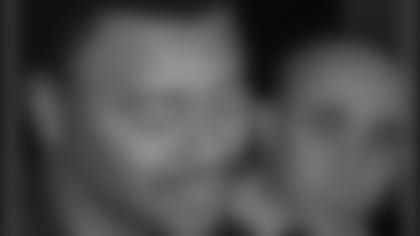 Foreman talks with the media about his excitement to remain in Houston.
"I couldn't have written a script any better," Foreman smiled. "I'm excited to be here the next few years and make this defense a great thing and win games.
"I really didn't want to go anywhere else. I liked it here from the first day I got here. It's first-class, real football people, good coaches and front office. I knew I kind of had a home here."
Foreman will return next season with fellow linebackers Jamie Sharper and Kailee Wong and continue to build a strong defensive force that Capers has proudly cemented. In the meantime, Foreman and his fiancée, Stephanie, will celebrate five more years of playing in front of Texans fans.
"I'm probably going to have a nice dinner and go home and crack open a bottle of champagne," Foreman laughed.
The Texans also hosted two free agent visits with Buffalo running back Shawn Bryson and Pittsburgh linebacker Clark Haggans. Houston will look to fill both positions either in free agency or through the April draft.
Bryson spent all three years of his young career playing for the Bills with 967 career rushing yards and two touchdowns. He spent most of last season on injured reserve after tearing ligaments in his left knee against Houston in October. Taken by the Bills in the third round of the 1999 draft, Bryson has started in 10 of 37 career games and also brings experience as a special teams contributor.
Haggans also enters his fourth year in the NFL, where he has served primarily as a solid backup linebacker in the Steelers 3-4 defense, much like the scheme Capers runs in Houston. Haggans recorded 28 tackles with 6 1/2 sacks in 2002 with three passes defensed and one forced fumble. The aggressive pass rusher was also a major contributor on special teams with 17 tackles (second on the team) after leading the squad in 2001 with 23. Pittsburgh chose Haggans in the fifth round of the 1999 draft and transitioned him into the 3-4 scheme after he played defensive end at Colorado State.
Haggans wouldn't face an extreme change on defense in Houston, in fact, he and his Pittsburgh teammates used Texans game film to prepare for common opponents.
"The transition wouldn't be that drastic," Haggans said when comparing the Pittsburgh and Houston defenses. "I watched film over the season when they played Tennessee, Jacksonville and Cleveland. They do have a great defense. We picked up a lot of success they had with certain teams and copy-catted it going into our games."