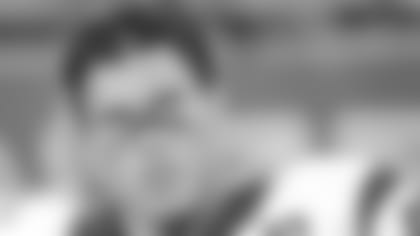 Texans linebacker Brian Cushing will miss the rest of the season with a torn anterior cruciate ligament (ACL) in his left knee.
Coach Gary Kubiak confirmed the news on Tuesday afternoon, a day after Cushing was injured against the New York Jets at MetLife Stadium. Cushing will have surgery in 2-3 weeks after the swelling in his knee subsides.
"(It's) a big blow to our team," Kubiak said. "You feel bad for Brian because he works so hard and is playing so well. He's going to be missed, but we've got to have guys pick it up around him and got to find a way to move forward. We're just all disappointed for him."
Cushing, a team captain, was the Texans' most valuable player in 2011. He leads the NFL's third-ranked defense this season with 29 tackles. He had five tackles in 19 minutes on Monday night before going down in the second quarter on a cut block by Jets guard Matt Slauson.
After the game, Cushing greeted his teammates in the tunnel outside the visitors' locker room while standing on crutches.
"I expect that," Kubiak said. "He's a leader on this team. Those guys really look to him. He's an emotional leader, the way he plays, the way he works, the way he practices. Cush loves ball. That's the thing about him, and guys feed off of that. I think they kind of felt at halftime that they had lost one of their buddies. We actually talked about it a little bit before we went out in the second half. Obviously, we wanted to win the football game, but I think there was some added incentive to finish that thing up last night for Cush."
Cushing, 25, led the Texans in tackles in two of his first three seasons. He had 114 tackles in 2011, earning second-team All-Pro honors. He had 133 tackles as a rookie in 2009, earning a trip to the Pro Bowl and the Defensive Rookie of the Year award.
Seventh-year veteran Tim Dobbins will get the first crack at Cushing's starting job at Mo linebacker. Bradie James, who starts at Mike linebacker, will likely take Cushing's place on the field on passing downs. Kubiak said Mister Alexander and Jesse Nading can also play inside linebacker.
"You don't replace players like (Cushing)," Kubiak said. "The rest of your football team has got to pick it up and play better. We're going to be calling on everybody else to do their job a little bit better."
Third-year inside linebacker Darryl Sharpton is still on the Physically Unable to Perform (PUP) list with a quadriceps injury. Kubiak said the Texans are a couple weeks away from a decision on whether he will return in 2012.
"He's still not ready today, but we do have some more time on our hands," Kubiak said. "We are pushing him toward that date here in a few weeks toward our bye week (Oct. 28) where we could get a good look at him and see, but there's still some progress to be made."
Cushing is the first Texans starter to suffer a season-ending injury in 2012. None of the Texans' starters have missed even a single game so far this season. The Texans won the AFC South and reached the Divisional Round of the playoffs last season despite season-ending injuries to quarterback Matt Schaub and linebacker Mario Willliams, along with injuries to several other marquee players.
"There are crises in this league," Kubiak said. "Every team has 'em. We've had our share here the last couple years, and boy, this is the first one (and) it's a big one. But I do know what this group is made of and I know what they're capable of, and we'll find a way to work through it and somebody else will come out of this and become a good player for us. I have a lot of confidence in that."
Kubiak also is confident that Cushing will make a full recovery from his injury.
"I talked to him after the game quite a bit," Kubiak said. "That's his hometown, so you can imagine what he went through last night. But he'll get well. He'll get fixed, he'll get well. Brian's got a brilliant future ahead of him, and the worker he is, he'll probably get that done pretty quick."
Twitter.com/NickScurfield