DENVER, Colo.-- Yes, it's a loss.

But in the preseason, it's often the journey that's more important than the final result.

The Texans dropped a 31-17 decision to the Broncos tonight in Denver, falling to 1-2 in preseason play with one dress rehearsal to go. But most of us would agree that this was a much-improved team than the one we saw in Pittsburgh six days ago.

Running back Domanick Davis saw his first action of the preseason and his fresh legs propelled Houston to a 14-13 halftime lead. Consider the Broncos' first-team defense came into tonight's game on a roll, yielding just five first downs in three games.

Yet the Texans matched that on one drive, kick-starting a prolific offensive display at unseasonably chilly Invesco Field (one without wide receiver Andre Johnson). In the first half, Carr completed 8 of 13 passes for 114 yards and one touchdown, a 15-yarder to wide receiver Derick Armstrong. Meanwhile, Davis rushed for 49 yards on seven carries.

"I really like the way our guys came out and got started," head coach Dom Capers said. "Obviously, you saw Domanick Davis make a tremendous difference in that first drive. I thought David Carr was sharp. We were able to make some big plays throwing the ball up the field."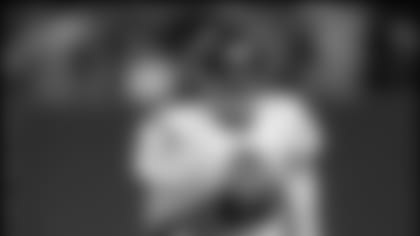 After Carr hit wide receiver Corey Bradford for 12 yards on the game's first snap, the Texans went almost exclusively to their rushing game, covering the next 64 yards on the ground. Davis, who sat out the first two games with an ankle injury, carried five times for 28 yards and fellow back Tony Hollings capped the drive with a 27-yard scoring jaunt.

The touchdown was the first allowed by Denver's first-team defense, which looked stellar in previous stints against Washington, Buffalo and Seattle.

Yes, Houston's defense struggled, but was also without defensive end Gary Walker and linebacker Jason Babin. Denver's first-team offense hadn't scored a touchdown in three preseason games but quarterback Jake Plummer turned in a solid performance.

Plummer marched his offense into Texans territory on Denver's first drive, but the drive stalled at the Houston 36. The Texans took over at their own 11, where Carr dumped off a screen pass to Davis that resulted in a 24-yard gain. That gave Houston some breathing room but the drive stalled there.

The Broncos again ventured into Texans territory on their second drive. Plummer found wide receiver Rod Smith for 17 yards to the Texans 18 as the first quarter concluded.

Two plays later, Smith caught a 10-yard slant to give Denver first and goal at the eight-yard line. Broncos running back Quentin Griffin squeezed past the goal line three plays later to help Denver tie the score.

Carr was sacked by Broncos defensive end Trevor Pryce for a six-yard loss but Davis rumbled for 20 yards to the Texans 38. On the next play, Carr lofted a gorgeous 47-yard pass to Bradford, pushing the ball all the way to the Broncos 15. Carr then dropped back and fired a pass to Armstrong, who got his feet down, turned and dove across the goal line.

Just like that, 1:51 after Griffin's score, the Texans were back on top.

"Corey Bradford made a great catch," Capers said. "Derick Armstrong made a nice back-shoulder catch for the touchdown. It looked a lot better this week than it did last week."

The players agreed.

"We just wanted to go out and execute," Bradford said. "Last week we came out and stumbled against Pittsburgh. Today we came out and ran the ball well, which helped us throw the ball well."

But Plummer wasn't done and was getting terrific protection from his offensive line. He hit wide receiver Darius Watts for a 45-yard gain to the Texans 40. Plummer then found Smith twice more to push the ball to the 13-yard line before scampering himself to the Texans 2. Three plays later, Plummer bootlegged to his left to knot the score again.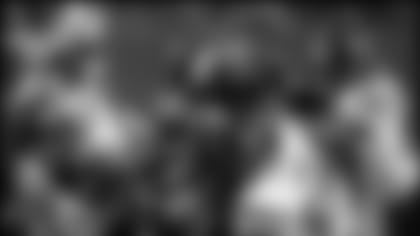 Oops, *almost *knot the score. The Broncos botched the extra point attempt, allowing Houston to maintain a one-point lead.

Carr completed two short passes on Houston's next offensive series, but the Texans couldn't get a first down. Ditto for Denver, though the Broncos forced Houston to start at its own 11 again. But Hollings scampered 14 yards to give the Texans some breathing room at the two-minute warning. He finished with 79 yards on 13 carries.

Carr then found Armstrong, who bounced off a would-be tackler to gain 13 yards. But the drive stalled at the 40-yard line with 1:24 left.

Two plays later, Plummer floated a deep pass that was picked off by cornerback Demarcus Faggins at the Texans 49. But Pryce sacked Carr again, backing Houston up to its 44 and killing the drive.

Plummer came in for the first series of the third quarter but couldn't generate anything. He completed 12 of 22 passes on the night for 159 yards and the one pick. Quarterback Tony Banks opened the second half for the Texans but his initial drive resulted in a three-and-out.

Backup quarterback Danny Kanell marched the Broncos on a touchdown drive, highlighted by a 26-yard completion to tight end Jeb Putzier and an 11-yard touchdown pass to running back Mike Anderson. That gave Denver a 19-14 lead. The ensuing two-point conversion failed.

Banks found his groove on his next drive, hitting tight end Matt Murphy for 24 yards to the Broncos 38. A 12-yard completion to wide receiver Albert Johnson netted another first down before Hollings showed his trademark corner speed on a 17-yard run to the Broncos 6.

But an illegal formation penalty stalled the drive and Houston settled for a 26-yard field goal by Kris Brown to cut the lead to two points.

But the Texans got careless with the ball in the fourth quarter. Elam kicked a 44-yard field goal to push the lead back to 22-17 after Banks threw an interception. Then wide receiver Chris Taylor fumbled after making a catch. Broncos linebacker Cornelius Anthony scooped it up and raced 37 yards to the Texans 9. The play was reviewed but upheld and Elam kicked another field goal to pad the lead to eight points with six minutes left.

Things snowballed from there as Kanell hit wide receiver Triandos Luke for a 74-yard touchdown pass with 4:27 left.

Houston next hosts Tampa Bay Thursday at 7 p.m.