Texans defensive lineman Robaire Smith called it a "redemption week."
After a 38-3 defeat at Pittsburgh Aug. 21 the Texans are looking for a little revenge. A little proof that they're better than the way they played. Proof they're even better than an 18-0 shutout of the Cowboys in the preseason opener.
The Texans fell behind 14-0 in the first quarter against Pittsburgh, thanks in large part to the Steelers devotion to (and success) in running the ball.
Friday the team takes on the Broncos in Denver.
"I think this is a redemption week," Smith said. "Coaches are going to demand a lot out of this week to go out there and perform and stop the run like we're capable of doing. I think that's the thing that was upsetting so much. We've got the guys out here to make plays and stop that and we didn't get the job done."
"Well, you hope you don't have to have (a wake up call) but we've certainly got one," Texans head coach Dom Capers said. "I'd like to see our team become a team that has great focus and consistency. I think those two things go hand and hand. This is a game you have to answer the bell everyday."
The Texans gave up 427 yards of offense in the game – 205 on the ground. On offense, the team gained 188 yards.
Running back Mike Anderson rushed for 120 yards on 21 careers and a touchdown.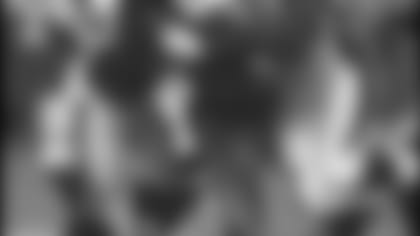 HOUSTON ON DEFENSE: **Anderson is definitely a threat, but by no means the only threat in a Denver offense designed to promote winning and not individual accomplishments.
Head coach Mike Shannahan has produced four 1,000-yard rookie running backs in his tenure, including Anderson in 2000. Last year's leading rusher Clinton Portis (1,591 yards) was traded to Washington in the off-season for shut-down cornerback Champ Bailey.
The Broncos also have second-year running back Quentin Griffin, Garrison Hearst and second-round draft pick Tatum Bell.
Bell will make his debut Friday night after missing most of training camp with a broken finger. He came close to playing against Seattle.
"I wanted Tatum to get ready to play," Shanahan said last week. "I told him before that he wasn't going to play unless somebody went down. Mentally, he was ready to go. Physically, I didn't feel like it was the right thing to do to come in with that broken finger. He made some strides during the week, but to put him in there I thought would have been a mistake. I don't think his confidence level would have been there. This next week, he'll be ready to go."
Denver employees a zone blocking scheme much like the one the Texans are installing. It has proven successful with the Broncos. The team has rushed for 10,947 yards (6.22 miles) in the past five seasons.
Going against such a potent rushing attack will test the Texans' defense and provide a chance to show their outing in Pittsburgh was nothing more than a fluke.
"I think everybody realizes now we've got to tighten things up," linebacker Jason Babin said. "We've got to go back out on the practice field and we've got to do things better than we did them Saturday."
However, the team will miss starting defensive end Gary Walker, who strained his groin Monday afternoon. The injury is not as serious as the toe injury he suffered last season or the groin injury that hampered him in 2002 Training Camp.
As a unit the Broncos have had their own problems. The first team has yet to score a touchdown in the preseason.
On the upside, rookie wide receiver Darius Watts caught five passes for 72 yards against the Seahawks and leads the team in preseason receptions. Watts, coupled with veterans Ashley Lelie and Rod Smith make a solid group of receivers.
Starting quarterback Jake Plummer threw for 2,182 yards and 15 touchdowns last season. He will be the most mobile quarterback the Texans face in the preseason. He also has concerns about the first-team offense, which has not scored a touchdown in the preseason.
"We produced, but it's all about scoring points," Plummer said. "You can go out and have games where you put up a lot of yardage but you don't score points (and) you don't win. Our defense is good, but we can't be falling back on them for long. We've got to start putting points on the board and taking a little pressure off of them."
HOUSTON ON OFFENSE:The Broncos' defense will be familiar with zone blocking. They see it everyday in practice.
But familiarity may be the least of the Texans' worries heading to INVESCO Field at Mile High. The Broncos finished fourth in total defense in 2003 and have improved their roster during the off-season.
Bailey is the most notable addition. His 18 career interceptions help a secondary that already ranked sixth in the NFL. The team also added safety John Lynch.
Denver did lose defensive tackle Daryl Gardner, linebackers Ian Gold and John Mobley and cornerback Deltha O'Neal, but they remain a veteran group. Linebackers Al Wilson and first-round draft pick D.J. Williams and defensive linemen Trevor Pryce and Luther Elliss anchor the group.
The Broncos have allowed 26 points in three preseason games, but have not allowed a touchdown in the last two.
The offensive line is ready for the challenge and to officially get past their last game.
"Offensively we didn't do anything that we expected to last week and that really caught us all off guard," offensive lineman Todd Wade said. "We kind of beat ourselves in a lot of things and we want to improve on that this week."
Texans' running back Domanick Davis will return to the lineup Friday night for the first time in the preseason. He will face the league's seventh best rush defense from 2003.
The Broncos allowed just over 100 yards per game on the ground last season.This preseason Denver's opponents have averaged 89 rushing yards per game.
The two teams also meet in the regular season, but Capers isn't worried about revealing too much. His goals include becoming a more disciplined football team in Denver and executing the game plan, no matter how plain or boring it may be.
"I think that if you play them early in the season you're always very concerned," Capers said. "But, we don't play these guys until about the middle of the season. They're going to be able to see all of us they want to see and we'll be able to see all of them we want to see by that point in time."
With starters playing the entire first half, the game takes on a slightly different importance. The third preseason game historically has been the most watched, since starters play longer.
Capers said starters will play the entire first half, perhaps into the third quarter.
"This is the game, the third preseason game, where you want your starters to come out and look sharp and perform well while they're in there," center Steve McKinney said. "This is really like the dress rehearsal leading up to the season."
THE LAST MEETING:Denver and Houston played last preseason – a 20-12 Broncos' win. The two teams have never met in the regular season.
CONNECTIONS:Two Texans are former Broncos: strong safety Eric Brown and tight end Billy Miller. Broncos' quarterback Mike Quinn, and wise receiver Atnaf Harris are former Texans.
Sixteen Broncos are from Texas: Bell (DeSota), tight end Byron Chamberlain (Fort Worth), linebacker Patrick Chukwurah (Irving), defensive end Randy Garner (Atlanta), Griffin (Houston), wide receiver B.J. Johnson (Arlington); safety Kenoy Kennedy (Terrell), defensive tackle Brandon Kennedy (Dallas), tackle Matt Lepsis (Frisco), wide receiver Adrian Madise (Lancaster), defensive end Clint Mitchell (Clearwater), guard Dan Neil (Cypress Creek), linebacker Terry Pierce (Fort Worth), Quinn (Houston), cornerback Scott Turner (Richardson) and offensive lineman Chris Watton (Clute)