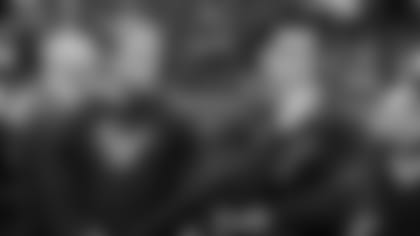 ]( "Could Brooks Reed (left) and Brian Cushing (right) be lining up next to each other as inside linebackers in 2013?")

As free agency and the 2013 NFL Draft approach, inside linebacker is widely perceived to be one of the Texans' biggest needs. But it's possible that the solution is already on their roster.
Outside linebacker Brooks Reed could potentially move inside, according to Texans coach Gary Kubiak at the NFL Scouting Combine.
"I think we have to continue to look that way," Kubiak said in response to a question about Reed possibly making the switch. "He's very capable of being a stack player… playing inside in our 3-4. Yes, that could happen. But we like him as a SAM. He's a heck of a SAM player."
A second-round draft pick out of Arizona in 2011, Reed has started for most of the last two seasons at SAM, the strongside linebacker on the outside. He set a team rookie record with 6.0 sacks in 2011 and had 3.5 more in the playoffs. He had 2.5 sacks in 12 games in 2012 and 1.5 more in two playoff games.
One of the Texans' strongest players, Reed was a defensive end in college after arriving at Arizona as an H-back. His only inside linebacker experience since high school consists of a scant number of reps late last season as the Texans dealt with an avalanche of injuries at the position.
NFL analyst Adam Caplan of Sirius/XM Radio said at the Combine that Reed's motor and the fact that he was successful early in his career are positive signs for his ability to handle a full-time switch. Caplan pointed to Brad Jones of the Green Bay Packers as a player who successfully  moved from outside to inside linebacker last season.
Another notable example is former New England Patriots linebacker Tedy Bruschi. Like Reed, Bruschi played defensive end at the University of Arizona (1992-95), then started his NFL career as an outside linebacker. He was moved inside after five seasons and went on to become a two-time All-Pro and three-time Super Bowl winner.
"It could work," Caplan said. "It doesn't always work. If the guy's never played before, he's going to have to learn it. He'll start in OTAs after the draft, and what they can do is they can get him ready for it and get him the information that he needs and he can watch tape of how to play inside, but it's just a process. Mentally, it's a major test.
"When you're playing outside standing up, your job more often than not is to rush, then you drop when you have to cover. His main job will be playing the run when you're inside, and he's lining up inside instead of outside. So it's a different process, and he's got to think differently. It will not be an easy transition if he's never done it before. But coaches love when they can find a guy who can rush from the inside. It's like an added bonus."
Brian Cushing, Darryl Sharpton and reserve/future signing Mike Mohamed are the only inside linebackers under contract with the Texans for 2013. Veterans Bradie James, Tim Dobbins and Barrett Ruud are all impending free agents. And Cushing (knee) and Sharpton (hip) are both coming off season-ending injuries, although Sharpton declared himself 100 percent healthy earlier this week.
If the Texans re-sign Connor Barwin, who's in line become an unrestricted free agent, they would have three starting-caliber outside linebackers in Barwin, Reed and 2012 first-round pick Whitney Mercilus, who had 6.0 sacks as a rookie. Moving Reed inside, if it works, could alleviate a logjam at one position while addressing a glaring deficiency at another.
"You've always got to have some versatility with one player or two players in various situations when you come across like what we did last year," Kubiak said. "Depending on what happens with our football team moving forward right now with Connor and some other things, I think Brooks will always give us some flexibility."
Twitter.com/NickScurfield