Quarterback David Carr was arguably the most durable player in the league last season, taking every offensive snap for the Texans while absorbing 76 sacks.
But rare is the signal-caller that can permanently shake the injury bug. And Carr succumbed to a right ankle sprain at Indianapolis yesterday, which will cause him to miss practice Wednesday. Head coach Dom Capers said Monday that Carr will be officially listed as doubtful for Sunday's game versus Carolina.
"David will be doubtful for this week," Capers said. "He's had all the tests and everything and we're going to treat this as a typical ankle sprain. We want him to be well before we put him back out there.
"David is a competitor. David will want to come back as quick as he possibly can. How he responds will determine how fast he will able to come back. He will not practice on Wednesday and with this type of injury you just have to go day to day."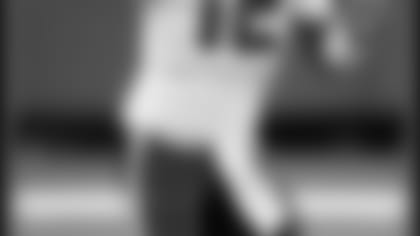 Banks will get the first-team snaps Wednesday.
Veteran backup Tony Banks, who completed 12 of 17 passes and led Houston on two touchdown drives in Carr's absence against the Colts, will likely start against the Panthers. If so, it will mark the 76th start of Banks' eight-year career and first for the Texans.
"My last few years as a starting quarterback, I won a lot of football games," Banks said yesterday after the game. "I've been in this situation before. Granted, it's a little different coming off the bench cold. But as a backup, you always have to be ready."
Carr initially injured the ankle when he was sacked by Colts defensive end Raheem Brock in the first quarter. Banks took over for two drives before Carr returned. But he re-injured the ankle on a one-yard touchdown pass to tight end Billy Miller in the second quarter.
"It felt like it got rolled on," Carr said after the game. "The X-ray looked fine, so I went back out for that next series. Then on the touchdown, I think I messed it up again. So it was about time to get out of there."
Carr had an MRI this morning and Capers indicated the initial results were encouraging.
"It was encouraging over what they thought it might be yesterday," Capers said. "But, again, it will be day to day and I don't think he had quite as much swelling."