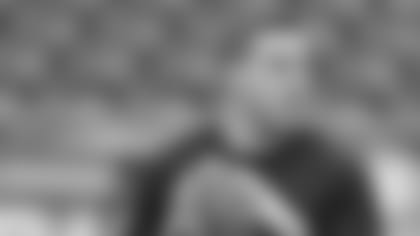 ]( "QB Case Keenum")

This time a year ago, Case Keenum was waiting on the NFL Draft. The record-setting quarterback's college days at the University of Houston were in the rearview mirror. Ahead was the uncertainty of where he'd play next. 

Keenum went undrafted, signed with the Texans and ended up on their practice squad. Now, he's busy getting ready for his second season in the NFL.
"Oh my gosh, a complete 180 from where I was last year at this time," Keenum said on Thursday at a community event in Sugar Land.
Keenum spent the 2012 season running the Texans' scout team offense. Getting a chance to absorb the playbook since the beginning of last May has been a boon to the NCAA career passing yards leader, who is eager to get back on the practice field with the start of OTAs on May 20.
"Once I kind of got the offense memorized, I was ready to get out and start practicing again, so I was about ready for OTAs to get here," Keenum said. "I wasn't ready for the season to be over, but I was ready for OTAs to start. I'm really excited about getting going."
Physically, Keenum has gone through a different workout regimen this February, March and April. Last year, he was preparing for the NFL Scouting Combine and a subsequent Pro Day on campus at Houston. Keenum described this offseason as "good" because of a few reasons, including strength and conditioning coach Cedric Smith and assistant Matt Schiotz.
"It's been different kind of being on your own rather than like a college offseason workout program," Keenum said. "But really, I'm in great shape right now; I'm exactly where I want to be going into OTAs. I have strength and conditioning with Cedric and Schiotz. I'm excited for OTAs."
Keenum has also relied on some college teammates to stay sharp over the last few months. Former Houston receiver Patrick Edwards, who signed a reserve/future contract with the Detroit Lions, has been running routes and catching passes from his college signal caller.
"I've been throwing," Keenum said. "A bunch of guys have been around. I've been over at U of H a little bit. Patrick's a guy that I threw a bunch of balls to in college, so it's been good."
twitter.com/doughertydrew