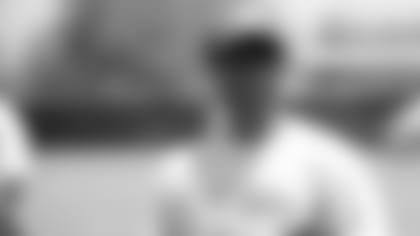 ]( "Charlie Ward")

Heisman Trophy winner Charlie Ward was a guest at Texans practice on Saturday morning.
Ward, the current football coach at Westbury Christian High School in Houston, watched the rookie mini-camp with his two children and two of their friends.
"My son's a big DeAndre Hopkins fan, so we came out and checked him out," Ward said. "He hasn't dropped any balls, so that's good, and he runs very good routes."
Ward won the Heisman as a quarterback at Florida State in 1993. He then played in the NBA for 11 seasons, starting with the New York Knicks and ending with the Houston Rockets in 2005. He saw plenty of Hopkins on TV in Hopkins' days at Clemson.
"Being in the ACC, he's done a good number a couple times on my Seminoles," Ward said. "He's gonna learn a lot from Andre (Johnson) and some of the other veteran receivers once they come in, but just raw, great raw ability with some good technique."
While at practice, Ward also got a chance to watch quarterback Collin Klein, who's trying out for the Texans after finishing third in last year's Heisman Trophy voting at Kansas State.
"Everyone's gonna point towards his throwing motion and all that kind of stuff," Ward said. "If he knows how to play the position and knows where he's supposed to go with the ball and running the offense, how he gets you there is not a big deal. He's thrown some nice balls here today that I've seen and made some good reads, so that's half of the battle is just understanding where to go with the ball."
"Being an African-American and GM, which is rare, he's blazed some trails for a lot of guys to make that happen, and I'm grateful that he's opened up, allowed me to be a part of his circle of friends," Ward said. "He's done a great job of running the organization. He loves God and he's a family man and he's class all the way around. I know you know that and a lot of people that are affiliated with the organization know that as well, so I'm grateful that I get an opportunity to know him."
Ward is hosting summer football camps at Westbury Christian School from June 3-27 and July 1-3. More information is available at www.westburychristian.org.
Twitter.com/NickScurfield