Wide receiver DeAndre Hopkins was the first Clemson player ever drafted by the Texans.
Texans president Jamey Rootes, a Clemson alumnus, is thrilled to have him on board.
"I'm very happy, personally, to have a Clemson Tiger player of this caliber on our football team," Rootes said Friday at Reliant Stadium. "Nuk is just an explosive player, had a fantastic career at Clemson. I'm excited for him because this is a great organization for him to be a part of. We are on the rise and built properly for long-term success. He could have a fantastic career here, and I'm happy for our football team because I think he makes us better."
"I think the last time we went in the first round for a wide receiver (in 2003), we did a pretty good job with Andre Johnson," Rootes said. "So now we're selecting that level of player in the college talent pool. There's a lot of work to be done in him developing, fitting into our system, so there's a lot of things to pass. But there are certainly tremendous prospects for him to come in and immediately make an impact on our football team."
Texans fans met the pick with roaring approval at the team's Draft Party presented by Coors Light on Thursday. A total of 7,207 fans packed the Verizon East and West Clubs at Reliant Stadium for the event, which was available with free tickets printed from HoustonTexans.com.
"It was great," Rootes said. "We made tickets available, and I think it was less than a day that they were out there before they were all snatched up. We had over 7,000 people engaging with the team, and it was a neat celebration in the offseason. It's so fun to bring them back into the environment as a reminder of how special gameday is here at Reliant Stadium.
"It's nice that we had a pick that they were pleased with. He's an outstanding player, exciting, electrifying, the kind of player you love to have on your football team. I think he makes us better, not only what he'll contribute but the fact that defending us is a little more difficult today than it was yesterday. It certainly is great for the fans, great for the football team and great for him."
Twitter.com/NickScurfield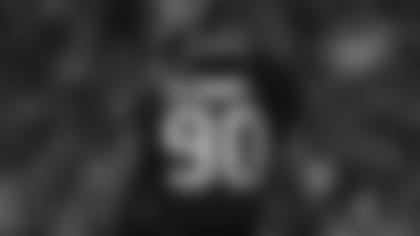 news
Breakfast: Jadeveon Clowney No. 32 on Top 100
Jadeveon Clowney makes his second consecutive appearance on the NFL Top 100 Players list.