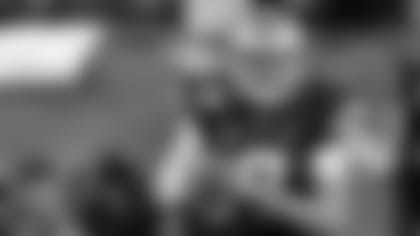 ]( "Kansas State QB Collin Klein")

The Texans have 17 players practicing on a tryout basis at their rookie mini-camp from May 10-12.
Among them is Kansas State quarterback Collin Klein, a Heisman Trophy finalist who was widely reported to be among the Texans' undrafted rookie signings. Klein instead is one of 11 rookies the Texans have on campus to try out during five practices over the next three days.
The Texans also are trying out six veterans, including running back Deji Karim, who previously played for the Jacksonville Jaguars and Indianapolis Colts. The others are center Tyler Horn, tackle Jon Opperud, safety Royo Lewis, defensive tackle Robert Rose and cornerback Terrence Wheatley.
Including tryout players, undrafted rookie signings, draft picks and first-year players, the Texans have 56 players participating in their mini-camp this weekend. They will have five practices in three days beginning on Friday morning.
Here's the full list of players participating in the Texans' rookie mini-camp:
Rookie Tryouts (11)
Jackson Anderson, LS, Duke
Marlon Brown, WR, Georgia
Adrian Campbell, T, Tarleton State
Javicz Jones, ILB, Mary-Hardin Baylor
Collin Klein, QB, Kansas State
Barrett Matthews, FB, Texas
Torlan Pittman, NT, SMU
Graham Pocic, C, Illinois
Adam Schiitz, TE, Emporia State (Kan.)
Baker Steinkuhler, NT, Nebraska
Ben Turk, P, Notre Dame
Veteran Tryouts (6) (NFL experience in parentheses)
Tyler Horn, C, Miami (Fla.) (1)
Deji Karim, RB, Southern Illinois (4)
Jon Opperud, T, Montana (1)
Roy Lewis, SS, Washington (4)
Robert Rose, DT, Ohio State (1)
Terrence Wheatley, CB, Colorado (4)
First-Year Players (7)
Keith Browner, DE, California
Jake Byrne, TE, Wisconsin
Cameron Collins, ILB, Oregon State
Delano Johnson, OLB, Bowie State
Case Keenum, QB, Houston
Nick Mondek, T, Purdue
Phillip Supernaw, TE, Ouachita Baptist
Draft Picks (9)
DeAndre Hopkins, WR, Clemson
D.J. Swearinger, S, South Carolina
Brennan Williams, T, North Carolina
Sam Montgomery, OLB, LSU
Trevardo Williams, OLB, Connecticut
David Quessenberry, T, San Jose State
Alan Bonner, WR, Jacksonville State
Chris Jones, NT, Bowling Green
Ryan Griffin, TE, Connecticut
Undrafted Rookies (23)
List
Twitter.com/NickScurfield