INDIANAPOLIS - Watching my first combine workout in person, I quickly understood how some scouts and general managers can become infatuated with players during these non-contact drills.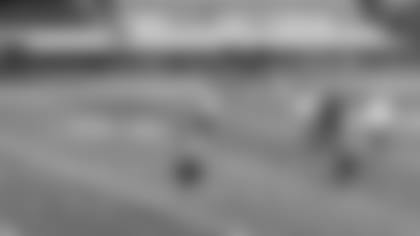 One player that particularly caught my eye Saturday morning was
Andy Alleman. He was officially clocked at 5.07 in the 40-yard dash, but I saw several scouts who had him clocked in the sub-5.0 range.
He showed exceptional quickness in drills and stood out with some very quick feet. He's certainly not physically imposing, standing just over 6-3 and weighing around 300 pounds. Searching around the Internet, he seems to be on the bubble as a first-day selection.
He is big enough for guard, but there are questions regarding his strength at the point of attack. Still, his stock seems to be rising. He's a former defensive tackle and transferred from Pitt, so his athletic credentials are certainly equal to that of his peers.
After the workout, I was anxious to see how the scouts viewed Alleman's workout. Most were impressed, but one reminded me of something that I'm sure most NFL personnel are keeping in their minds this week.
"Remember, this is not a football experience," he said. "These guys are not doing football skills. What do (offensive linemen) do on every play?"
Of course, I answered: "Hit somebody."
"That's right, and they're not doing that here. These guys have been training for months for this. I would hope they would look good."
He also said there is something to be gained from watching the workouts, but reading too much into a 30-minute workout can be dangerous. Regardless, I'll be interested to see where Alleman ends up in April.
There were hundreds of scouts and coaches at the offensive line workout this morning, but one coach caught my eye when he walked in, the Jets' Eric Mangini.
Much was made this past season of Mangini's relationship with Patriots head coach Bill Belichick. Their relationship seemed to be rocky after the Jets upset the Patriots in the regular season. That was followed by a loss and an awkward hug.
Well there doesn't seem to be any bad feelings between Mangini and Browns coach Romeo Crennel, the Patriots' former defensive coordinator. Mangini, who came to New York after spending several years coaching in New England, brought Crennel a cup of coffee Saturday morning and quickly took a seat next to Crennel with a wide smile.
I didn't watch the tight ends work out Saturday. The class is not considered strong this year. However, by running a 4.51 in the 40-yard dash,
's Greg Olsen almost guaranteed himself as being the first tight end taken off the board in April.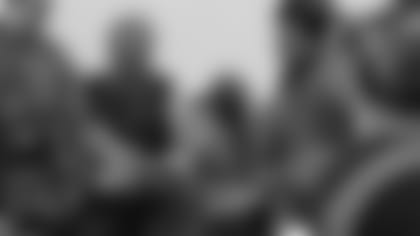 He could be the next great tight end to come out of "The U" following in the footsteps of Bubba Franks, Jeremy Shockey and Kellen Winslow Jr. in just the last decade.
After watching the O-linemen Saturday, I returned to the media room. The NFL is doing a great job bringing in the guys when they have time throughout the day for interviews.
I still can't get over the attention this is drawing from the press. The media crunch on these players is unbelievable, and when they enter the room it's like sharks stalking prey in the ocean.
At last count, there were more than 400 media members here this weekend, including guys (and ladies) like myself from various team websites.
 Paul Posluszny was not exactly eager to take the podium Saturday. He did, though, and answered questions thoroughly and without hesitation. But you could tell he would have preferred to have been seated at a nearby table instead of speaking in front of a mic at a podium.
More coaches made their way through on Saturday with the most interesting presser coming courtesy of
head coach Mike Nolan. The 49ers are about $38 million under the salary cap, so they will be a huge player when free agency begins next week.
Nolan was quickly asked to assess Baltimore linebacker Adalius Thomas, an unrestricted free agent. Nolan served as the Ravens' defensive coordinator prior to taking the coaching helm in
Although Thomas was not a standout player during Nolan's tenure with the Ravens, the coach still had nothing but nice things to say about his former pupil. His response varied slightly from the typical "coach speak" that Nolan likes to engage in.
Translation: Don't be surprised if San Francisco
makes a big push for Thomas in free agency. Baltimore general manager Ozzie Newsome's comments earlier in the day stating that the Ravens have a plan in place for life without Thomas only makes me believe that Thomas soon will have a new home.