INDIANAPOLIS- If you lived in
you may not know it, but the NFL Scouting Combine is still going on. People in Indy might not be able to tell because thousands of teenagers have taken over the convention center adjacent to RCA Dome - and more importantly for those of us attending the combine - the teeny boppers have taken over the hotels as well.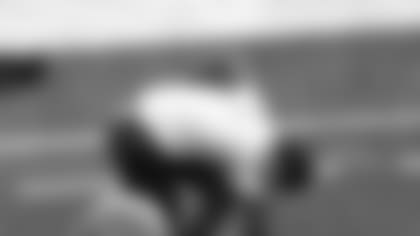 As of 3 p.m. Sunday, there were two dozen 12-year old cheerleaders for every one NFL scout. Earlier this weekend, there was a gymnastics competition of some sort at the convention center.
The young ladies offered a stark contrast to the grown men here in Indy to show off their football skills. Occasionally this weekend you would see a father peek around the corner to catch a glimpse of the NFL crowd.
For the next four days, it appears as though there is some sort of cheerleading competition. I'm not looking forward to seeing the line at Starbucks tomorrow morning, but I digress. On to football.
I was early to the media room this morning anxious to get some work done before taking in the first workout Sunday. Who should roll in right after me but Peter King from Sports Illustrated and NBC Sports.
To see King at the combine is the equivalent of seeing an offensive lineman at a buffet. But what was surprising was that King's arrival brought the total number of media in the room to three. If anyone could come and go it's King, but here he was at 8 a.m. Sunday morning trying to get a leg up on the competition, a lesson for those trying to achieve King's status in the world of football if there ever was one.
Once workouts started, it was easy to see why many people have said this wide receiver class is one of the deepest in years. These guys are fast.
Give credit to Calvin Johnson who couldn't resist the chance to show off his speed and actually BORROWED a pair of sneakers to run the 40-yard dash in. That's a competitor. After running a 4.35 this morning, don't be surprised if the Raiders take Johnson with the first overall selection, despite a need at quarterback.
One player that probably secured a spot in the first round is LSU's Dwayne Bowe. Bowe is that rare combination of size and speed and displayed solid hands Sunday morning to go along with a 40 time in the mid 4.4's.
Another big name that showcased his talents Sunday was Adrian Peterson. He participated in nearly every aspect of the running back workout, running a 40 clocked in the high 4.3's and displaying some nice hands out of the backfield.
Sorry Texans fans, but it's hard to imagine Peterson slipping to number eight by the time the draft rolls around. The good news is there seems to a bevy of other players that have the ability to come in and contribute right away.
Another running back to keep an eye on is
's Lorenzo Booker. Booker impressed at the Senior Bowl and ran extremely fast Sunday getting clocked by some in the mid 4.3's. He's a bit undersized, but he could offer a dynamic change of pace for a team on third down.
Another player that helped himself Sunday was
that he can be a game-changer as a return man.
's Robert Meachem was clocked as low as 4.36 on Sunday. He helped himself considerably and could help bring the tally of wide receivers taken in the first round to six come April.
It's finally time for defense Monday. I'll get to catch some of the defensive line workouts before heading to the airport for my trip back to