IRVING, Texas-- So let's see if we've got this straight.
Tonight was Bill Parcells' first game roaming the home sidelines at Texas Stadium, the Cowboys have a good old fashioned quarterback controversy on their hands, they were embarrassed last week at Arizona and across the way is the team that shocked them in last year's regular season opener.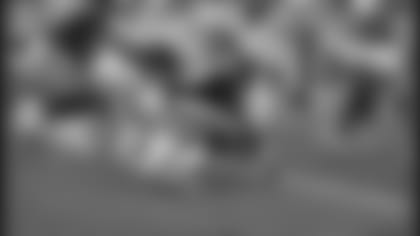 And this game wasn't supposed to mean anything?
Technically, no. But tonight's preseason contest between the Texans and Cowboys possessed plenty of intrigue going in, and Dallas, as expected, came out fired up.
Whatever Parcells got across to his troops this week worked. The Cowboys scored both methodically and quickly, and owned all three phases of the game en route to a 34-6 win. The Texans managed just two field goals and surrendered 392 total yards.
Houston dropped to 0-2 with San Diego coming to Reliant Stadium in eight days. Dallas improved to 1-1 with a trip to Pittsburgh on its docket for next week.
Quarterback David Carr completed 12 of 16 passes for 96 yards in a full half of work. But Dallas racked up 220 yards in the first half and scored 17 points in taking over the game in the second quarter.
Dallas started on offense and started well, churning out 28 yards on the ground on the game's first four plays. But Cowboys running back Troy Hambrick fumbled at the Houston 30 and defensive end Jerry Deloach recovered for the Texans.
Then Carr went to work. After hitting fullback Jarrod Baxter for 11 yards on a nice play fake, Carr found rookie wide receiver Andre Johnson for 10 yards. Johnson earned his first start Friday, opposite Jabar Gaffney.
Gaffney, seemingly forgotten during training camp, reminded Texans fans why he was a second-round pick last year, hauling in a gorgeous 29-yarder from Carr down to the Cowboys 19. The Texans got inside the 10 but settled for Brown's field goal.
Rookie running back Tony Hollings got his first preseason carry on that drive, netting six yards. He eventually finished with 45 yards on 14 carries.
"That's how our offense should look on every drive," Carr said about the initial drive. "We didn't have any penalties or minus-yard plays. We went out and didn't beat ourselves.
"Right now, where we are in our offensive development, that's the only way we'll be able to go out and put drives together."
But after that first march, the Texans' offense struggled and the Cowboys took to the air in the second quarter on an impressive 96-yard scoring drive. Quarterback Quincy Carter completed four consecutive passes, the last a 34-yard strike to wide receiver Terry Glenn. Four plays later, Hambrick ran around the left end for a one-yard touchdown to give Dallas a 7-3 lead.
The Cowboys got the ball right back as cornerback Darrick Vaughn coughed it up on the ensuing kickoff return. Dallas linebacker Keith O'Neil recovered. On the very next play, Carter hit wide receiver Antonio Bryant in the end zone. Bryant had beaten cornerback Jason Bell (replacing Aaron Glenn) to the inside.
Dallas added a 45-yard field goal by kicker Billy Cundiff to take a 17-3 lead heading into the locker room.
"We got off to a good start both offensively and defensively," head coach Dom Capers said at halftime. "But we beat ourselves with penalties. We have to see what our guys are made of in the second half."
After Houston's offense couldn't move the ball to start the second half, the defense again stepped up. Linebacker Terrell Washington forced Cowboys quarterback Tony Romo to fumble and rookie linebacker Antwan Peek scooped the ball up and raced to the Dallas 18.
But a pass interference call on wide receiver Avion Black pushed Houston back and the Texans had to settle for a 31-yard field goal by Todd Sievers to slice the lead to 11 points.
Romo struck back as he hooked up on a 60-yard touchdown pass to wide receiver Randal Williams with six minutes left in the quarter, extending the Dallas lead to 24-6. The drive covered just five plays.
The Cowboys added insult to injury in the fourth quarter as rookie wide receiver Zuriel Smith shook three tackles en route to an 83-yard punt return for a touchdown. After playing so well on special teams against Denver last week, the Texans surrendered 103 yards on four punt returns, while netting just seven yards on their three chances.
         Despite
         the lackluster performance, the Texans still got a good look at a
         ton of players and their starters saw more time in preparation for
         the regular season. Expect the Texans to game plan a bit more for
         the Chargers since they will have just two days to prepare for the
         preseason finale at Tampa Bay Aug. 28.