 ](http://www.houstontexans.com/news/index.cfm?pagetype=sub&contid=194534)Morning practice
SAN ANTONIO-- One year to the day they introduced themselves at a scrimmage in Houston, the Texans and Cowboys again hooked up for some exhibition football Saturday night at San Antonio's Alamodome.
It didn't begin well for the Texans, but they unleashed enough of an offensive punch at the end of the game to make the ride home a little more palatable. And Houston's defensive starters emerged unscathed because, well, they didn't play.
Quarterback David Carr hit rookie wide receiver Andre Johnson for a 23-yard touchdown pass, but the Texans couldn't overcome a solid performance by the Cowboys offense in a 26-14 "loss."
"The thing that I was disappointed in was the execution of our first group," head coach Dom Capers said. "One of the reasons we do this type of scrimmage is for evaluation in where we are and for individual players. We ended up playing a lot of young players tonight."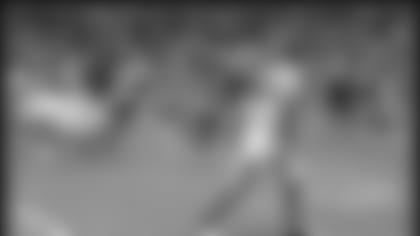 The Texans looked sloppy at the outset on both offense and defense and spotted Dallas a 20-point lead. But, to be fair, Houston never put its first-team defense on the field. And the starting offensive line was missing center Steve McKinney, right guard Fred Weary and right tackle Zach Wiegert. Mike Newell, Ryan Schau and Greg Randall started in their places, respectively. Without three starters on the line, Houston's early offensive showing looked too much like 2002.
In nine plays to start the scrimmage, the Texans gained positive yardage on just three plays. Running back Stacey Mack rushed for two yards on three carries. Quarterback David Carr was sacked once, fumbled one snap and was run out of bounds behind the line of scrimmage by Dallas defensive end Ebenezer Ekuban. On that last play, Carr spiked the ball in frustration.
Newell also suffered a left knee sprain during the series.
"In fairness, we had somewhat of a makeshift offensive line in terms of guys filling in," Capers said. "We lost Mike Newell to possibly an ACL injury."
Free agent Matt Anderson, who the Texans signed earlier this week, played the rest of the scrimmage in place of Newell.
"When we get all of our guys on the field I'll really be able to tell how we are," Carr said. "I know I'm excited to get out there and start working again. But we just have to get better."
Meanwhile, the Cowboys offense, led by quarterback Quincy Carter, marched effectively down the field in its first series against Houston's second-string defense. Cowboys wide receiver Antonio Bryant gained 17 yards on a reverse to sustain a drive capped by a 24-yard field goal by kicker Ola Kimrin.
The Texans' second-team offense didn't fare much better as quarterback Tony Banks completed 1 of 4 passes for minus-2 yards. Ekuban, playing with second-stringers, recorded two sacks. Mack managed six yards on three carries.
Right tackle Jimmy Herndon suffered a right knee sprain and was helped off the field by the training staff.
Cowboys quarterback Chad Hutchinson took over on the next series. He led Dallas to one first down before rookie running back ReShard Lee broke free for a 42-yard scamper. On the next play, wide receiver Reggie Swinton beat cornerback Darrick Vaughn and hauled in a 26-yard touchdown pass from Hutchinson to give the Cowboys a 10-0 lead.
Quarterback Mike Quinn took the offensive reins and engineered the best drive of the night, highlighted by a 17-yard screen pass to Jonathan Wells and an 16-yard strike to wide receiver J.J. Moses. But two sacks forced the Texans back to the Cowboys 36 and kicker Todd Sievers missed a 53-yard field goal.
The Cowboys marched right down the field on their next series, capping the drive with a seven-yard touchdown pass from Hutchinson to tight end Dan Campbell.
Quarterback Dave Ragone engineered a solid drive in his first try, aided by some nice running from Wells. But the Cowboys stopped Wells on a 4th and 1 at the Dallas 15.
After Dallas kicker Billy Cundiff booted a 42-yard field goal to push the lead to 20, Carr returned to the field. And he made the first of what Texans fans hope will be many connections to Johnson, a gorgeous 23-yard pass that the rookie cradled in the left corner of the end zone.
"It was just good to come out and go against different people," Johnson said. "It lets you know where your team is at right now and we just came out here and gave it our best effort."
Banks returned to the field as well, and capped a drive by completing a 17-yard touchdown pass to wide receiver JaJuan Dawson, cutting the lead to 20-14. Rookie running back Tony Hollings also saw his first action in those two series.
The Texans were done for the evening on offense and the Cowboys added two more field goals by Cundiff to provide the final margin.
Now the Texans will break down the film and return to practice Monday. The Broncos arrive for two days of work Wednesday before next Saturday's preseason opener.
"There's an awful lot of things we can learn from the tape," Capers said. "It's good to go through and make the mistakes. When Denver comes in, we'll make progress there and make fewer mistakes.
"These are mistakes you make a lot of times in your first preseason game."