Some folks just take a while to get going.
Take Ron Dayne, the big, burly running back from Wisconsin. This is a guy who needs to carry the ball. And carry it and carry it and carry it.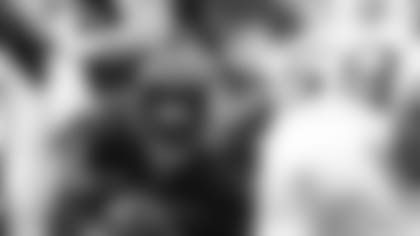 Like feeding a slot machine. Eventually, he's going to pay off.
He did Sunday, running over the Indianapolis Colts for 153 yards and two touchdowns in the Texans' 27-24 upset at Reliant Stadium.
Dayne never had carried more than 20 times in a game in his NFL career before this year. He had a career-best 22 early this season against Miami, but managed only 58 yards that game because of a turf toe injury.
So he never had an honest work day in the pros, not like the kind he experienced in Wisconsin. In four years with the Badgers, Dayne rushed for more than 1,000 yards every year on his way to the Heisman Trophy, and set a Big 10 record for career carries with 1,220.
That's an average of 300.5 a season and nearly 30 a game. Sunday, he finally got to experience that feeling again when he had 32 carries this afternoon.
"It was fun," Dayne said. "I've never really had the opportunities to carry this many times since I've been in the NFL.
"At New York (where Dayne played for the Giants), I'd get 100 yards and then I wouldn't have many carries the next week.
"I know I can run the ball."
The Giants seemed to doubt that, even though they drafted him in the first round in 2000. In his third game as a rookie, he rushed 19 times for 111 yards against New Orleans.
But the next week, he carried only 16 times and never carried for more than 20 the rest of his five years in New York.
It didn't look like he would this year, either. Dayne started three games earlier this season, but the turf toe slowed him badly. He carried only 10 times for a measly 14 yards in his last start Oct. 15 against Dallas. He played in only one of the next three games, then was inactive for three straight games.
"Early in the season, I couldn't really give the team everything I had," Dayne said. "So it was kind of a blessing in disguise when they put me on the inactive squad. That gave me a chance to heal myself all the way. Now I feel great."
He looked like it Sunday and his teammates were impressed.
"Ron did a great job of running today," rookie running back Chris Taylor said. "You can't tackle him he's so low to the ground and so big. It's hard for people to wrap him up and tackle him. He keeps it trucking."
Coach Gary Kubiak, who had Dayne last year at Denver when Kubiak was offensive coordinator, knew what the seventh-year pro could do if he got healthy.
"I really can't say enough about what he's done this year," Kubiak said. "I think we all know he comes in here, and he's actually got turf toe and there are people who tell me he might have been done, he doesn't look the same, those types of things.
"I would agree when we first got him, I was concerned. He didn't look like the guy I left (at Denver) last year. He told me at that time, 'Kub, my toe is still bothering me. Have some patience with me.'"
Kubiak was patient, but after Dayne went three weeks on inactive, it was time to see what Dayne could do entering the Oakland game.
"I went to him the week we played Oakland and I knew we wanted to activate (running back) Chris Taylor," Kubiak said. "I told Ronnie, 'This is a big week for you. I want to take a look at Chris Taylor before this year is out, so you need to step up.'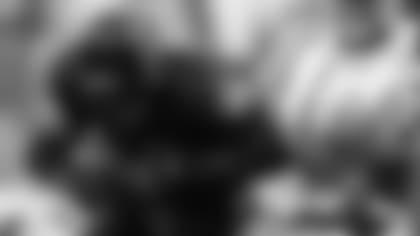 "Ever since then, he's been something else. And what he did today, it looks like he's got a lot of football left in him."
Oakland began Dayne's recent amazing run of four games. He rushed for 95, 87 and 94 yards before Sunday's huge day.
"This is the biggest opportunity I've had in the NFL," Dayne said. "The line was doing a great job for me today. As long as they keep doing that, I'll keep running like this."
Ron Dayne wants the ball and it looks like a pretty sound strategy.

*EDITOR'S NOTE:Jim Carley is a veteran Houston sportswriter who has covered the NFL for more than 25 years. He has worked for such newspapers as the Fort Worth Star-Telegram, The Houston Post, the Los Angeles Herald-Examiner and the National Sports Daily covering such teams as the Dallas Cowboys, the Houston Oilers, the Los Angeles Rams and the Oakland Raiders. *