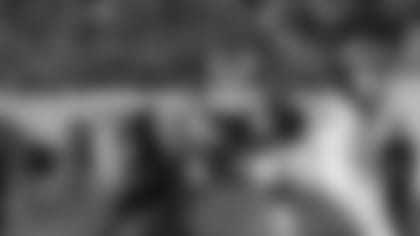 ](WR DeAndre Hopkins)

DeAndre Hopkins, the newest addition to the Houston Texans' roster, admitted to not knowing anything about the city of Houston on a conference call Thursday night. But he does know a thing or two about Andre Johnson.
The 20-year-old wide receiver out of Clemson University is humbled by the opportunity to call Johnson his teammate.
"He's a great wide receiver, man," Hopkins said. "He's a physical guy. I feel like we have the same mentality; when the ball's in the air, it's ours. I've looked up to him since he's been in the NFL."
It's no secret that the Texans were in the market for another receiver, and Hopkins knew he was on the team's radar.
"I've been hearing the buzz that Andre Johnson wanted another wide receiver on the other side of him," Hopkins said. "When I heard him say that I was like, 'Man, I'm that guy.' I could help this team win championships."
Hopkins was selected 27th overall by the Texans in the first round on Thursday. He is only the second receiver to be taken in the first round by the team, the first being none other than Johnson.
"I got big shoes to fill, I guess," Hopkins said. "I'm gonna go out there and give my all."