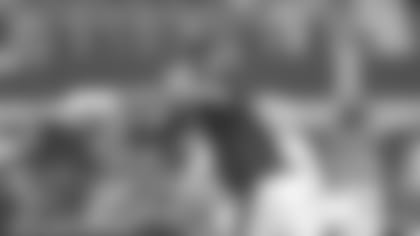 DeVier Posey started Thursday night for the Texans, and didn't wait long to contribute.
The second-year wide receiver returned from an achilles injury he suffered in the playoff loss at New England, and caught an 7-yard pass on the team's first offensive play from scrimmage. He was flagged for pass interference and the catch was stricken from the stat books, but he was elated after the play.
"It felt good," Posey said. "A lot of hard work to get to this point. It was like a small celebration and it felt good to be one of the guys again.
Later in that first drive, which ended with a 5-yard touchdown run by Dennis Johnson, Posey caught a 15-yard pass from Case Keenum and was brought down ruggedly by a group of Cowboys' defenders.
"He got tackled a few times," head coach Gary Kubiak said. "I think he feels confident that he's ready to go"
Posey also pulled in a 3-yard completion later in the first quarter, and his night was finished after about 14 plays from scrimmage.
Posey missed much of training camp because he was on the physically unable to perform (PUP) list, but returned last week to practice with his teammates. Getting back into a game was sweet after putting in such hard work during the seven-month rehab. But he said his comeback isn't over after just one game.
"I'll continue to progress," Posey said. "I know it's a long year and I'll get better and stronger and prove to them that I can contribute more and more."
Twitter.com/DoughertyDrew