In recent weeks, general manager Charley Casserly has said repeatedly that the Texans were considering drafting Mario Williams with the first overall pick.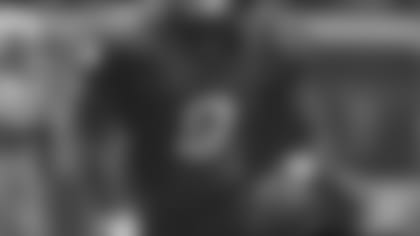 Despite widespread doubts about the veracity of those comments, Casserly proved to be a man of his word Friday night when the team announced the signing of the North Carolina State defensive end only hours before the 2006 NFL Draft.
The six-year, $54 million deal ($26.5 million guaranteed) ensures that Williams will report to training camp on time, and also solidifies a Texans' defensive line that instantly becomes one of the most formidable units in the AFC South, if not the entire conference.
"We've improved our football team, there's no question," Casserly said.
Of course, the Texans also shattered the majority of mock drafts, which projected the team to select University of Southern California running back Reggie Bush.
Casserly admitted that the Texans' personnel department was divided between Williams and Bush, but that everyone agreed each player was deserving of the top choice. Vice president of football administration Dan Ferens began negotiations with both players on Monday, but he began to speak exclusively with Williams' agent on Friday.
"The room was split, but (head coach) Gary (Kubiak) and I were unanimous in our feelings for (Williams), and so was the owner (Bob McNair)," Casserly said. "We thought this was a better fit for our football team. Both are outstanding prospects. But we think you have to build a championship with defense first. We think Mario Williams can be one of the cornerstones of our defense."
Williams has all the measurables a team could desire, such as 4.7-second speed in the 40-yard dash, a 40.5-inch vertical leap and 35 repetitions of the 225-pound bench press. That combination is unheard of for someone that stands 6-7 and weighs 290 pounds.
In addition to his physical tools, Williams set school records with 14.5 sacks and 27.5 tackles for loss last season in one of the country's most competitive conferences. He finished his Wolfpack career with 175 tackles, 55.5 tackles for loss and 26.5 sacks.
"I just think he has all the things you look for in a quality defensive lineman," Casserly said of Williams. "He's got speed, strength, explosion, quickness off the ball, athletic ability to change directions and the versatility to play all four positions, which very few defensive ends can do."
Casserly denied that anything other than football played a role in signing Williams instead of Bush. The 2005 Heisman Trophy winner has been under fire this week for possible N.C.A.A. violations, and it was speculated that Bush would be more difficult to sign than Williams because of his public stature. It turns out that neither of those issues played a role in the Texans' decision.
"This was strictly about a football decision," Casserly said. "Reggie told me on the telephone when I interviewed him on Wednesday that he was confident that all these allegations would go away, that he didn't do anything wrong. His attorney reiterated that to me Wednesday and Thursday. This was a football decision. Obviously, it's a big decision, but clearly on the football field, nothing off the field."
That lineup should help the Texans put more pressure on opposing quarterbacks. Last year, the team finished ninth out of 16 AFC teams with only 37 sacks.
"Our pass rush hasn't been what it needs to be," Casserly said. "Mario Williams can give you a pass rush from the defensive end position and the defensive tackle position."
Meanwhile, the Texans' backfield seems to be in decent shape without Bush. The team returns running back Domanick Davis along with 2005 third-round pick Vernand Morency. While Casserly might add some more depth at that position this weekend, he believes Davis can handle the load.
"We have a young man here who in three years here has averaged 1,000 yards a year," Casserly said of Davis. "Now, he's coming off a knee injury, but the bottom line is he's going to be here and he's going to play, so you've got a player already there that's proven."
Even with all of the external pressure to draft Bush and Texas quarterback Vince Young, Casserly did not seem fazed by the attention. In fact, he was extremely excited about Williams' potential in Houston, and thinks the Texans only will get better in the next two days.
"Winning overrides everything," Casserly said. "We have to win games. And let me say this, we think Mario Williams is going to be a terrific player in this league, but one player doesn't win a game and a championship. You have to have a team.
"We have to add more players in the draft tomorrow, which we will. They will be good players and they will help this football team along with the players we got in the off-season. I think we had a great off-season, but we're building a football team here to win, and one player is only a part of the team."