 KAPOLEI, Hawaii - When you want to be the best, you have to beat the best. That applies to a team, or in the case of wide receiver Andre Johnson on Thursday, an individual.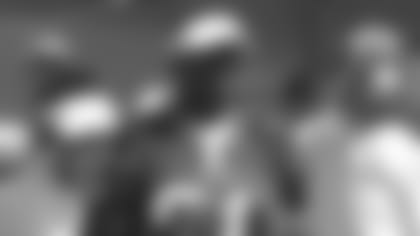 And the Texans' lone Pro Bowler was within a few tenths of a second from doing just that during the Best Hands segment of the 2007 Pro Bowl Skills Challenge at the picturesque Ihilani resort (watch the video here).
Unfortunately, the final contestant, Bengals wide receiver Chad Johnson, delivered an impressive, yet controversial, time to claim first place and push Andre to third in the standings.
In total, eight players were timed running 80 combined vertical yards – 40 yards each way up and down the field – while moving through four different receiving stations with periodic obstacles in between them. The player that completed the course the fastest with the fewest dropped balls was crowned the winner.
The drill tested speed, hand-eye coordination and change of direction. After Packers wide receiver Donald Driver finished the drill in 16.5 seconds, Andre topped that with a time of 15.8 seconds to pace the field. Using his long, bursting strides, Andre barely broke a sweat despite the punishing heat.
During his first Pro Bowl trip following the 2004 season, Andre participated in the Fastest Man competition and nearly won the 40-yard dash. While his speed is a well-known asset, Andre's soft hands and rapid acceleration caught at least some players and fans by surprise today judging by the oohs and aahs of the crowd. He caught every ball cleanly.
Later, though, Andre's time was surpassed by Panthers wideout Steve Smith, who clocked in at 15.7 seconds to the dismay of some Texans fans cheering on the sidelines. First place no longer was an option for No. 80, but claiming second in a field as deep and talented as the one assembled was nothing to sneeze at.
But just when it looked like Andre would be the runner-up, the man known as "Ocho Cinco" stole the show. Chad bobbled one pass, and hesitated as he approached the halfway mark, but he still managed to cross the finish line with a time of 15.5 seconds to the shock of some onlookers.
Nevertheless, Andre proved to be as gracious in defeat as he is in victory. Besides, he and Chad are friends and training partners, so there were no hard feelings.
"It was fun," Andre said. "The top-three guys were just within a couple tenths of a second, so it was a lot of fun to go out and run around with those guys and get to compete against them.
"I went against the best: Chad Johnson, Steve Smith, Donald Driver, Roy Williams. What more can you ask for?
"You don't have some okay guys and some mediocre guys (here). You have all all-stars, so it's fun to go against them in things like this."
A big question often asked after these types of competitions is whether the players take them seriously. The look in Andre's eyes afterward said it all.
"It's all fun, but when you're doing it, you want to win," he said matter-of-factly.
Looking at the field of players that signed up for the Fastest Man competition this year – Jaguars cornerback Rashean Mathis, Chargers wide receiver Kassim Osgood, 49ers cornerback Walt Harris and Jets cornerback Justin Miller – it seemed that Andre had a good chance of winning that race had he entered. Asked why he opted instead to participate in the Best Hands drill, Andre said it was all about new challenges.
"(The NFL) really had been trying to get me to do that this year," he said of the 40-yard dash. "But I just wanted to do something different…I thought the Best Hands (contest) would be more challenging than the Fastest Man competition. You had to run up and back (40 yards each way) and catch the ball while you were running and still try to do it at a fast pace. So it was fun and I just wanted to do something different."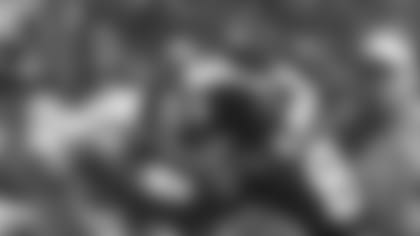 For the most part, Andre has flown under the national radar compared to some of the other notable Pro Bowlers in Hawaii this year. But after his performance Thursday, Andre should earn some well-deserved recognition.
"You get to put your face out there a little bit more," he said of the Pro Bowl Skills Challenge. "Sometimes you get overlooked because how your team is doing, but I'm not really the guy who likes to have all the spotlight or whatever. But just being here, it does put your face out there some."
Andre only wishes that he could have come out on top. The good news is that there's always next year. You can count on that.
*Best Hands times (in seconds): *Bengals wide receiver Chad Johnson – 15.5
Panthers wide receiver Steve Smtih – 15.7
Texans wide receiver Andre Johnson – 15.8
Lions wide receiver Roy Williams – 16.1
Packers wide receiver Donald Driver – 16.5
Falcons tight end Alge Crumpler – 16.8
Cowboys tight end Jason Witten – 17.1
Cardinals wide receiver Anquan Boldin – 19.5
*To watch the Pro Bowl Skills Challenge on the NFL Network, please tune in at 10:30 p.m. ET this Saturday during halftime of the 2007 Pro Bowl.