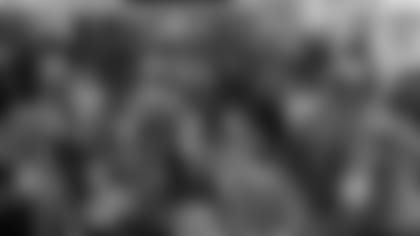 Thursday night resembled a fall Sunday at Reliant Stadium as thousands of fans arrived to celebrate the Houston Texans 2013 Draft Party presented by Coors Light. A sold-out group of Texans faithful gathered in the East Club to mingle with other fans, players and Texans Cheerleaders while waiting for the announcement of the Texans' first-round pick.
Gary Wood, a self-proclaimed "superfan" dressed in a "J.J. S.W.A.T.T." costume with a bullet-proof vest and blow-up camouflage rifle, soaked in the atmosphere.
"I'm here to enjoy myself and pump up the fans," Wood said. "We love our Houston Texans. This is my first draft party but I've been to every game since day one."
The Texans are projected to make their pick around 9:30 p.m. CT. For live draft coverage, visit our Path to the Draft page presented by Warehouse Pool Supply.