 Not the best job last week with predictions, but my guys didn't exactly put up goose eggs on the scoreboard either. Jamaal Lewis and Tatum Bell were slightly above average and Tom Brady was okay, but considering what kind of day Sunday was for many quarterbacks, Brady's performance was pretty pedestrian. Steve Smith didn't play and
's defense was pretty good, but not spectacular. That said, lets move ahead to Week 3.
Donovan McNabb/Donte Stallworth- The first combo pick of the season and I think it's a good one. The Eagles will be looking to bounce back from a demoralizing loss to the New York Giants, a game they lost in overtime after leading 24-7 in the second half. What better way to bounce back then against a shaky 49ers defense. Philly will be making the long trip to the west coast and San Fran does look much improved from last year, but both McNabb and Stallworth have had a great start to the season. No. 5 seems to be back to his 2004 form after an injury plagued 2005 season and Stallworth is showing fans why the Eagles traded for him with two touchdowns already to go along with 222 yards receiving. This is a statement game for the Eagles and that should mean big fantasy points by McNabb and Stallworth.
Stephen Jackson- Jackson is way overdue to find the endzone.
looks to keep the ball out of Kurt Warner's hands by controlling the clock.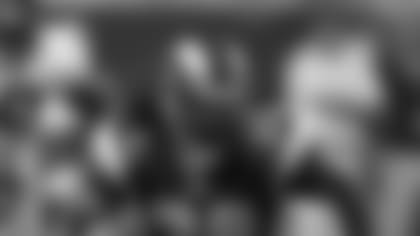 Anquan Boldin- The Cardinals-Rams matchup on Sunday could be a shootout. Even if
is able to control the clock with the running game, they're not going to keep the Cardinals off the scoreboard entirely. With 10 receptions already, Boldin is still behind teammate Larry Fitzgerald. It's pick your poison with the Cardinals receiving corps and I'll say Fitzgerald draws a lot of attention on Sunday leaving Boldin open for a big day.
Todd Heap- Heap is a little banged up, but that didn't stop him from finding the endzone Sunday. Against a Browns defense that currently ranks 30 th in the NFL, there will be plenty of yards to go around Sunday in
is just what the doctor ordered for Nick Saban's defense. It doesn't matter who plays quarterback for the Titans, Kerry Collins or Vince Young, I don't imagine a scenario where the Dolphins don't at least get two turnovers.