Through 11 weeks the Texans have scrapped and struggled. They have won five games, lost six. They have shown flashes of brilliance and streaks of frustration.

The passing game carried Houston in most games, led by David Carr's 2,742 yards and wide receiver Andre Johnson's 893 and five touchdowns.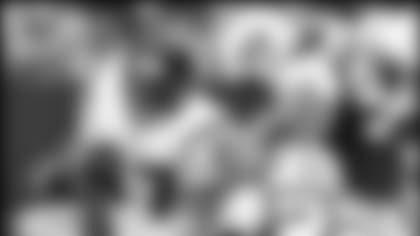 Sure running back Domanick Davis has notched his way into the scoring column – nine total touchdowns – but it just hadn't been his ideal season. He leads the team with 652 rushing yards, which are well below expectations.
But it looks as if Davis and the rest of the team are ready to take the next step in the running game, a step they hope leads to a more consistent offense and success in the win column.
Davis rushed for a season-high 129 yards against the Titans last week – a 31-21 Texans win. He also caught seven passes for 52 yards. He had the second most total yards in team history and became only the 11 th running back since 1996 to rush for more than 100 yards against Tennessee.
He was a favorite late-first, early-second round selection in most fantasy drafts, but injuries have limited him this season. But it seems last season's Rookie of the Year is back.
"Things weren't going our way at all," Davis said of earlier in the season. "As far as the run is concerned it's everybody, the whole offense. It's not just one person on the line, not just the running back. No need to point fingers at anybody and say all kinds of crazy stuff. It's everybody as a team. Right now we're feeling comfortable with what we're doing and we've got it going the right way."
And don't look now, the New York Jets – a team Davis rushed for a career-high 129 yards on last year – are next on the Texans schedule.
"We have to run it," Davis said. "Every game we need to run the ball. That's the first thing we need to do, establish the running game and that opens up everything."
FANTASY GAME BALLS:Browns quarterback Kelly Holcomb had his name all over the headlines last season and he came painfully close to being the team's full-time starter.
He played in place of Jeff Garcia last week and promptly threw for 413 yards and five touchdowns in a 58-48 loss to Cincinnati.
He also cracked three ribs meaning he will likely not start next week. Garcia is still fighting a strained shoulder opening the door for Luke McCown.
Just when people stopped talking about the Raiders, Kerry Collins throws for 339 and four touchdowns in a surprise victory at Denver.
Bengals running back Rudi Johnson rushed for 202 yards and two touchdowns against the Browns in the second highest scoring game in league history. He was the main reason Carson Palmer only had to throw for 251 yards.
Julius Jones proved the future of the Dallas running game is bright (150 yards and two touchdowns).
WHO TO START:Shaun Alexander rushed for only 39 yard last week and will face the Cowboys on Monday Night Football. Everyone in Seattle still talks about his performance on *Sunday Night Football *two years ago – something like four touchdowns in the first half…
St. Louis quarterback Marc Bulger threw for more than 400 yards and a couple of touchdowns against a good Green Bay defense last week.
What will he do indoors against the 1-10 49ers?