The Texans and Dolphins finished their two-day sparring match with a scrimmage that didn't produce a touchdown.

But don't think the coaches weren't keeping score.

Today's scrimmage between the two teams offered the first glimpse of Reliant Stadium for a host of rookies. And it's those rookies who were most closely scrutinized during the two hours.

"We've had an excellent week of work and this work with the Dolphins has been very valuable," head coach Dom Capers said afterwards. "It gave us a good chance to get a good look at our young players.

"This is a production business and we're looking for production."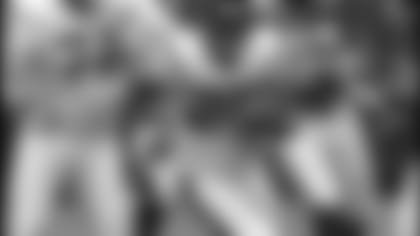 The Texans had their share of producers. Running back Tony Hollings impressed on offense with 38 rushing yards, while linebacker Marcus Bell  racked up five tackles, plus a forced fumble and a fumble recovery. Houston's defensive line played exceptionally well. But today was mostly about the rookies on both sides getting an opportunity to prove their worth.

First up on the scrimmage docket was a series of 7-on-7 drills. Quarterback David Carr completed 3 of 4 passes on his first go-around. He was picked off by Dolphins cornerback Reggie Howard on his third throw, but bounced back on the ensuing snap to throw a 27-yard touchdown pass to wide receiver Derick Armstrong. Armstrong made a nice diving catch at the goal line.

Quarterback Tony Banks stepped up and floated a 24-yard scoring toss to wide receiver Jermaine Lewis.

The ball was moved up for the second 7-on-7 series and Carr lofted a beautiful pass over wide receiver Corey Bradford's shoulder for a 13-yard touchdown. Bradford snagged the ball with one hand as Howard trailed him by a step. Carr finished the 7-on-7 drills completing 4 of 7 passes for 58 yards with two touchdowns and one pick. Dolphins quarterback Jay Fiedler completed 7 of 9 for 46 yards and two scores.

The team portion of the afternoon started with the Texans on offense. On the first snap, Hollings rushed for 20 yards through a gaping hole on the left side. Hollings had another good carry later in the session when he left Dolphins linebacker Junior Seau in the dust on a seven-yard carry around the right side.

Carr hit wide receiver Andre Johnson on a 12-yard pass before the nine-play sequence halted on an incompletion. Carr completed 5 of 11 passes for 37 yards on the afternoon. J

On the Dolphins' first offensive snap, linebacker Jason Babin was in the backfield immediately, forcing Dolphins quarterback Jay Fiedler to sidestep the rookie. We certainly can't speculate on whether that would have been a sack in a real game, but...it was a good sign for Babin.

"I got a chance to get out there and play against another team and see how it's going to be," he said. "It's not quite as fast, but it was a good taste."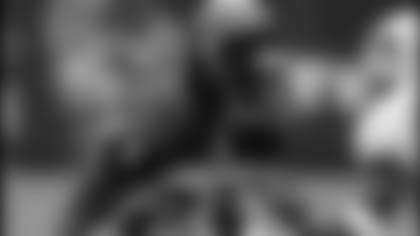 Fellow first-round pick Dunta Robinson blitzed Fiedler on Miami's last play of that series but Fielder got the completion off to tight end Randy McMichael. Fiedler finished 5 for 6 for 18 yards.

Robinson and Babin returned to the field for the first 10-play rookie session. On the second play, Dolphins quarterback Sage Rosenfels completed a 35-yard pass wide receiver J.R. Tolver. But on the next play, Bell (they're not all rookies) yanked a reception away from Dolphins tight end John Jones to end the scoring threat. Credit Bell with a forced fumble and fumble recovery.

Houston's offense opened up the two-minute session with the ball at its own 45. Dolphins defensive end Jason Taylor sacked Carr on the first snap, but Dolphins cornerback Antuan Edwards was flagged for defensive holding.

Carr then completed a seven-yard pass to Johnson and a 12-yarder to wide receiver Jabar Gaffney to put the ball at the Dolphins 31 with 28 seconds remaining. After two incompletions, Carr hit Gaffney again for nine yards and Houston called timeout with 12 seconds left.

The Texans went for it on 4th and 1 and the Dolphins bailed them out again, this time on a defensive holding call on cornerback Kelvin Millhouse. But the Texans only had time for one more play from the Dolphins 17 and Carr's pass sailed out of the end zone.

Dolphins quarterback A.J. Feeley hit on a 21-yard pass on Miami's first two-minute snap. Two plays later, cornerback Jason Bell was flagged for pass interference on wide receiver Kendall Newson, placing the ball at the Texans 10. On 2nd and goal, linebacker Antwan Peek sacked Feeley for nine yards, prompting a Dolphins timeout.

The Texans held on the next two plays so score the two-minute session a draw.

Another rookie session capped the afternoon. Quarterback Dave Ragone found wide receiver Andrae Thurman on a 30-yard completion. But neither team scored.

Cornerback Aaron Glenn, running back Domanick Davis, center Steve McKinney, guard Zach Wiegert and tight end Billy Miller were the starters that didn't suit up Saturday. And Capers acknowledged that Saturday's biggest victory was that nobody went down. That's on everybody's mind in Houston after Dolphins wide receiver David Boston had his season end yesterday before it ever started.

"The most encouraging thing about today was that we came out of it without any major injuries," Capers said.

Now the Texans have tomorrow off before getting ready for their preseason opener one week from tonight here against Dallas.

"I won't feel (like a pro) until next week after that first preseason game," Robinson said. "When I play against a sold out crowd I can officially say I feel like an NFL professional."
NOTES:Incidentally, this was Capers' birthday and his wife, Karen, made sure he got a birthday cake handed to him while the cameras were rolling. We won't tell you how many candles it's worth.

Saturday's crowd was an announced 33,226. Jennifer Pena performed after the game as part of Football Fiesta.


And last but not least, congrats to linebacker Kailee Wong and his wife, Marissa, who gave birth to a healthy baby boy last night -- Makai Lee Wong. Makai checks into our depth chart at 7 pounds, 11 ounces.