The Texans know they'll need a complete effort to beat Tennessee and snap a three-game losing streak. And it looks like they'll have a complete roster to lean on Sunday.

All three players that didn't practice Thursday -- cornerback Marcus Coleman, linebacker Jay Foreman and running back Tony Hollings -- returned to practice Friday as Houston capped preparations for the Titans.


"Marcus, Jay and Tony will all be available to us," head coach Dom Capers said. "Gary Walker also practiced today."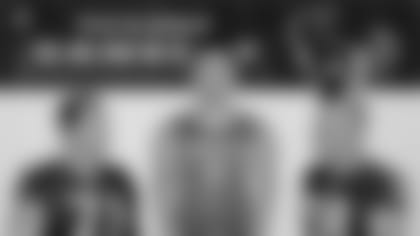 Todd Wade and Seth Wand grace this week's game program cover with a taller friend.
Walker has a foot injury that sidelined him against Green Bay. But for the most part, the Texans head into Sunday's game healthy as they try to sweep a division opponent for the first time.
This is different Titans team that comes into Houston after dropping a 20-10 decision to the Texans Oct. 17. Tennessee has battled numerous injuries, especially on defense, but has still managed to keep its head above water. The Titans are now tied with the Texans at 4-6.
"They've done a good job," Capers said. "I think their defense has actually improved over the last month. I think they've got some young guys that bring some enthusiasm and are playing aggresively."
Titans quarterback Steve McNair returned last week after missing three games and helped engineered an upset win at Jacksonville. He threw four interceptions in the first game against Houston and will be eager to exact some revenge on a Texans pass defense that ranks 30th in the league. But despite the raw numbers, Houston's young defense is coming off a relatively solid performance against the Packers.
"I've looked at our defense all along as how much we've improved since the season began," Capers said. "I think we've had some very good defensive games and I considered the game last Sunday a good defensive game, even though we gave up a lot of yards. We're heading in the right direction."
The Texans need to hold serve Sunday considering three of their next four contests are on the road. And that one home game is against the white-hot Colts. A season sweep of the Titans would make a much-needed victory just that much sweeter.