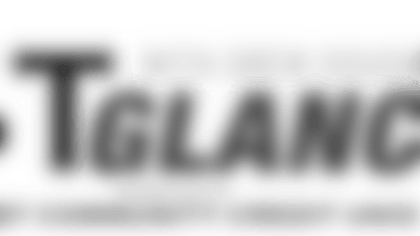 ](https://www.texanschecking.com/)
The Texans (3-5) face the Rams (6-2) in Los Angeles this Sunday. The Week 10 matchup with the leaders of the AFC West is the first meeting between the two squads since a 2013 contest at NRG Stadium, which the Rams won. Here are five things to watch at 3:05 p.m. CT inside the Los Angeles Memorial Coliseum.
1. Weapons Watch: After ringing up 30 points or more on offense for five straight games, the Texans scored 14 last Sunday in the loss to Indianapolis. Receivers DeAndre Hopkins and Will Fuller combined to catch 13 touchdowns during that five-game offensive explosion, and they believe they can get back to those fireworks.
"We still can get the job done and we know that we got the guys on defense, we got the guys on offense, we just have to play one complete game together, offense and defense," Hopkins said.
The veteran receiver leads the NFL with eight scoring grabs this season, and he's third in the League with 692 receiving yards.
Fuller, meanwhile, is second in the NFL with seven touchdown catches, and he's averaging 20.7 yards per reception. His presence as a deep threat has helped out the likes of Hopkins and Bruce Ellington.
"I take a lot of pride in that," Fuller said. "I know I'm a good deep threat, so running and getting other people open, helping the offense any way I can, I feel like that's my job and I'm going to keep doing it."
2. Tom Terrific: Quarterback Tom Savage got the offense moving on the final two drives of last Sunday's loss, and will look to continue that in Los Angeles. On those final two possessions, Savage completed 10-of-15 passes for 137 yards and a score. One way he can carry over that success from last week to this week: to try and relax a little.
"These guys need to go out and let it loose, play free, stop worrying about being hard on themselves and just go let it rip," head coach Bill O'Brien said. "That's how I think they need to play."
Savage provided a bit of a spark when he came in last season, and helped guide the Texans to a pair of wins in Weeks 15 and 16. He was crisp in the preseason, completing 75 percent of his passes in August, with a touchdown and zero interceptions. Preseason, December, November, it doesn't matter to Savage. He believes the remedy to the overall struggles of last week is fairly straightforward.
"I just got to go out there and do it," Savage said. "I think there's a lot of times where you just got to give these guys shots and give them a chance to actually catch the ball and not throw it out of bounds. I mean, we need to go out there, we need to be aggressive, we need to make plays."
Another factor working in Savage's favor this week: a full week of practice with the first unit. Deshaun Watson was injured during Thursday's work last week, so Savage had just under two full practices as the starter. He's now had a complete week of work with that unit.
"He knows the game plan, he knows the offense," O'Brien said. "He's very, very schooled up on how to run our offense. He's a smart guy. He's going to have a full week of practice under his belt, which I think is a big deal."
3. Tight end return: The Texans will get tight end C.J. Fiedorowicz back on Sunday against the Rams. Unfortunately, fellow tight end Ryan Griffin won't be there. The latter went on injured reserve Friday with a concussion, while the former came off IR after missing the last seven games with a concussion.
Fiedorowicz said he's feeling "great", and will be glad to be back on the field with his teammates. 
"I've stayed in shape and I'm ready to go for Sunday," Fiedorowicz said. "It was a brutal eight weeks. You feel like you're kind of not part of the team. You're kind of doing stuff on your own, working out on your own. It's not something I had planned for, but my body feels good."
Last season, Fiedorowicz set career highs with 54 catches, 559 yards and four touchdowns. Having him back on the offense is a welcome sight for Savage.
"He's a heck of a tight end and, obviously, getting him back's going to be a huge help," Savage said.
Fiedorowicz caughts four passes for 46 yards in the season opener, before exiting with a concussion. Because he's only played a half of football this season, he said he feels relatively fresh.
"I know a lot of guys' bodies are beat up after eight weeks of this grind of the season, but I feel good and I'm out here ready to help the team," Fiedorowicz said.
4. Speaking of weapons...: The Rams have offensive weapons aplenty. Second-year quarterback Jared Goff has thrown for 2,030 yards this season, with 13 touchdowns to just four interceptions. Only three running backs in the NFL have more rushing yards than the 686 for Todd Gurley, who's also run for seven scores as well. Robert Woods, Sammy Watkins and Cooper Kupp headline a dangerously dynamic receiving corps. The Texans defense will face one of it's stiffer challenges against the Rams offense.
"He can make all the throws, which you knew that coming out of college, that's why he was drafted No. 1," O'Brien said of Goff. "But, he's in a good rhythm. He's got a good mix of three-step and intermediate routes, down the field routes, shot routes. The running game, they're averaging 132 yards per game rushing the ball with (Todd) Gurley. They've got a great offense so it's a big challenge for us."
Defensive coordinator Mike Vrabel's impressed with the Rams rushing attack, featuring Gurley and receiver Tavon Austin.
"It's fifth in the league in rushing," Vrabel said. "Downhill, cutback runner, great speed, great vision, good balance, runs hard. They do a nice job. They mix plays for them. They do a nice job. They put Austin back there, got package plays for him that we'll have to be aware of. So, they're doing a nice job of running the football and it'll be a good challenge for us."
5. Ram tough: Los Angeles features a defense with one of the best players in the NFL in Aaron Donald, and one of the League's best-ever coordinators in Wade Phillips. Donald, an interior lineman, is a menace for opposing offensive lines, and is having another strong season. He's already registered four sacks, and continues to be a disruptive force.
"He's a relentless player," O'Brien said. "They line him up in different spots. He's very explosive, plays low to the ground, plays hard. Great athlete. Not a guy that dives around. I mean, he's using his hands, his feet. Can't say enough about the guy. He's one of the best players we've seen on film."
O'Brien was equally effusive in his praise of Phillips, who was the Texans defensive coordinator from 2011 through 2013.
"He's one of the best of all time," O'Brien said. "He's a great defensive coordinator. It's an attacking defense. It's a one-gap defense. You better be ready on third down for a game plan-type blitz. You better be ready for man coverage. Going to stop the run, going to get after your quarterback. Everybody has to be on their A game when it comes to playing these guys. These guys are playing at a high level. They have Aaron Donald up inside there. Wade's one of the best to ever do it."
Los Angeles is tied for 9th in the NFL with just 19.4 points allowed per game. They've also picked off 10 passes this season, which is 4th-best in the League. Rams head coach Sean McVay feels fortunate to have Phillips coordinating his defense.
"Being around guys like Wade Phillips is a blessing because I can learn from him," McVay said. "He's such a great resource for me to have."