The Texans (4-3) host the Detroit Lions (4-3) on Sunday at NRG Stadium. Here are five things to watch during the game, which kicks off at noon CT.
1. Brock n' Roll: After a tough outing on Monday Night Football, the Texans could use a bounce-back performance from quarterback Brock Osweiler. In four home games at NRG Stadium, he's completed 63.3 percent of his passes for 1,022 yards, and he's thrown seven touchdowns.
More importantly, he's been able to go deep: Osweiler's completed 14 passes for 20 or more yards at home, compared to just two on the road.
"It's consistency," Osweiler said. "We've proven at times that we can hit chunk plays, we can make big plays down the field, we can hit runs for huge gains. We just need to do it more often and we need to eliminate some mistakes along the way."
The Lions defense, meanwhile, has allowed 22 passes for 20 yards or more in 2016, which puts them in the bottom third of the NFL.
2. Keep running: While the passing game struggled last week, the run game had its finest performances
of the season the last two weeks.
Lamar Miller and Alfred Blue combined to average 5.6 yards per carry against Denver. Versus the Colts, that duo went for 6.2 a pop.
"Running game has been pretty good, so hopefully we can keep that going," head coach Bill O'Brien. "I think the backs are running well. Obviously Lamar is running well and I think Alfred Blue when he's had his chances, other than the turnover, I think he's really running well."
Before Week 6 compared to now, Miller's seen his average yards per carry jump by more than a yard. The way the run game has progressed has offensive coordinator George Godsey enthused.
"I feel really good," Godsey said. "I told you guys, really, from the beginning that's part of our offensive mode. We're going to run the football. So, it helps with play-action, takes a load off everybody's shoulders in the passing game."
The Lions run defense has allowed an average rush of 4.67 yards in 2016, which is the 26th-best mark in the NFL.
3. Stifle Stafford: Matthew Stafford has led the Lions to four victories on the year, and Detroit's riding a
three-game win streak. All four of the wins have been decided in the final two minutes of the game, and he's been outstanding late in games. Stafford's head coach explained why the signal-caller has been so effective, so late.
"I think his preparation is such that he really prepares himself for those kinds of moments," Jim Caldwell said. "Number two, obviously he has some unique talents and focus where he doesn't back down from real tough situations. Number three I think his leadership just in terms of getting guys to rally around him particularly in those crucial moments. He kind of has a knack for that."
Stafford's completed a career-best 68 percent of his passes on the season, with 14 touchdowns and just three interceptions. The 8-year veteran shifted the reasons for the late-game heroics back to his teammates.
"I think, more than anything, it says a lot about the guys around me and the team I have," Stafford said. "I've been really privileged to play with a lot of really good players. In those situations, you just try to put the ball in position for those guys to go make plays, and I've had guys around me that have made plays."
With a talented receiving corps in union with Stafford, cornerback A.J. Bouye said he and the Texans must be focused.
"When you have a quarterback like that with good receivers and stuff like that, you have to be on top of your game," Bouye said.
4. OK A.J.-The Texans' defense has been one of the best at defending the pass in 2016, as their 184.7
yards per game allowed is second in the NFL. One big reason why has been the play of Bouye. He's routinely lined up against Pro Bowler DeAndre Hopkins in practice, and defensive coordinator Romeo Crennel said that daily experience against the receiver has helped Bouye.
"He and Hop would compete on every route," Crennel said. "I think he got better as a result of it. Now, that's also carrying over to the football field on game day."
Hopkins explained why Bouye's a challenging cornerback.
 
"He makes plays, he's very instinctive," Hopkins said. "He's bigger than most corners as far as height-wise and arm length. He's very active and very instinctive."
Bouye attributed his success to the help he's received from Crennel and defensive backs coach John Butler.
"Just technique-wise, taking the coaching," Bouye said. "The coaches put me in the best position to make plays, and just mindset, really. That's pretty much the main thing, just knowing I can play and not worrying about when I'm getting beat or stuff like that."
5. Stay loud-The Texans are perfect at home in 2016. All four wins have come at NRG Stadium, and
O'Brien gives a lot of credit for those victories to the boisterous crowd.
"We have a very passionate fan base here," O'Brien said. "We love our fans. We're looking forward to playing in front of them and I think they give us a good home crowd advantage."
Defensive end Antonio Smith shared just how the crowd noise gives the Texans defense an advantage.
"I've said it all my career, especially being the pass rushers, the crowd makes a tremendous difference," Smith said. "They can win games for you. They confuse offenses. They make it easy on me to read a snap count. Because if you take a team's hard and snap count away from them, it's that much easier to rush the passer."
Hopkins said the NRG Stadium faithful are "rocking all the time" and provide a big lift for the players.
"Definitely this crowd helps a lot being here," Hopkins said. "Guys get a little bit more pumped when they're here at our stadium and know the field a little better. It's definitely a mind thing being at home."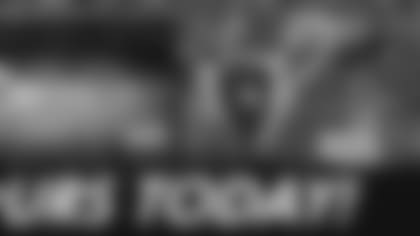 ![](http://www.houstontexans.com/news/drewdownfield.html)