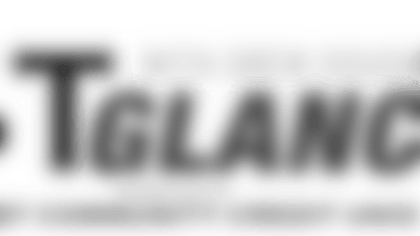 ](https://www.texanschecking.com/)
The Texans (4-10) close out their 2017 home schedule with a Christmas Day showdown against the Steelers (11-3). Here are five things to watch when Houston hosts Pittsburgh inside NRG Stadium at 3:30 p.m. CT.
1. Quessenberry's Debut- If your eyes get a bit "dusty" on Monday, don't worry: you won't be alone. Seeing offensive lineman David Quessenberry make his NFL regular season debut, over four years after being drafted by the Texans, and three years after being diagnosed with lymphoma, will make for an emotional moment.
Quessenberry spent his rookie season of 2013 on injured reserve with a leg injury, and was set to challenge for a starting spot on the Texans line in 2014. But in the spring of that year he started treatment, which included chemotherapy, and over the next three years he battled. Last summer he was declared cancer-free, he made the Houston practice squad, and was called up to the 53-man roster earlier this week.
"I'm excited just to cut it loose and just play ball and just be like a normal player," Quessenberry said. "I'm in the game plan. I'm really excited to suit up and play on Monday night."
Quessenberry played all across the line during training camp and the preseason, and will likely contribute as a blocking tight end on Monday. But regardless of where he lines up, his teammates on both sides of the ball, can't wait to see what he can do.
"I'm ready to see Quess play," defensive end Jadeveon Clowney said. "I'm looking forward to that, what he's been through. Me and him were hurt around the same time. When he was coming back, he couldn't even bench press like 200 pounds at one point and he just gradually increased over the offseason, me and him both and he just gradually increased his way up. Put in a lot of work, a lot of hours and it's paying off and now he's on the 53-man active roster."
2. T.J. Claus- T.J. Yates can help make it a Merry Christmas by guiding the Texans to a victory. Since taking over for the injured Tom Savage in Week 14 against San Francisco, he's thrown three touchdowns and an interception, and completed 45.6 percent of his passes for 303 yards. He'd like the beginning of the game to go a little differently this week.
"Definitely starting fast," Yates said. "That's a goal of the whole offense and the team, really. We have to get something going early to kind of get momentum built and just kind of build on that."
The Texans weren't able to get on the scoreboard until the third quarter last Sunday in Jacksonville. At that point, they were down 31-0. Quarterbacks coach Sean Ryan spoke with Yates about a quicker start.
"If it's our first progression and if it's there right now, take it right now," Ryan said. "Let's not miss chances like that. Let's get the ball out of our hand and keep the chains moving."
3. Spotlight on Hopkins- The two clear-cut favorites to make first-team All-Pro at receiver are DeAndre Hopkins and Pittsburgh's Antonio Brown. Unfortunately for the Steelers, Brown will sit this game out with an injury. But Hopkins will play, and it's a chance for him to move ahead of or closer to Brown in a few key statistical categories.
Brown has nine more catches this season than Hopkins, and 220 more receiving yards yards. He also has five more catches for a first down. A big day from Hopkins could see him surpass those totals. He's focused on getting a win, first and foremost, and the Steelers will be focused on trying to slow him down.
"He's a dynamic player, combat-catch guy," Steelers head coach Mike Tomlin said. "I think that's probably the most defining thing or the most shocking thing about his game as we study him this week, is he's always open because if he's in one-on-one circumstances, he can make the combat-catch, and does consistently. And even sometimes in the two-on-one situations. He's a big-time, big-time playmaker for them."
Hopkins was selected to his second Pro Bowl on Tuesday.
4. Ring the Bell- While the Steelers will be without their elite receiver, they will have their elite running back in Le'veon Bell. A true threat on the ground and as a pass-catcher as well, Bell's rumbled for 1,222 rushing yards and eight scores this season, and caught 80 passes for 627 yards and a pair of touchdowns.
"He's one of the best backs I've seen on tape in a long time, to be honest with you," head coach Bill O'Brien said. "He's a very patient runner. I don't think I've ever really seen anything like it."
The Texans run defense has been solid this season, allowing just 106.9 yards per game, which is the 10th-best mark in the NFL. Defensive coordinator Mike Vrabel is looking for that to continue, but he knows Bell will be a challenge.
"Le'Veon Bell – special back, very unique, very elusive," Vrabel said. "He's going to touch the ball 30 times. We understand that."
The last time these two teams met, Bell touched the ball 20 times for 145 yards, and caught a second quarter touchdown pass for two yards. Linebacker Brian Cushing thinks very highly of Bell.
"I think he is the best, yeah," Cushing said. "He can do it all. I mean, the guy would be an All-Pro wide receiver if he just played that, too. He's that talented. He's extremely patient. He's powerful. He's quick, he's shifty, he's fast. There's literally nothing he can't do on the football field."
5. Bother Big Ben- Ben Roethlisberger is rolling along in 2017, with a completion percentage of 63.9, 4,025 yards through the air, and 26 touchdowns. He's been picked off 14 times as well, and sacked 21 times. The Texans need to find a way to disrupt him on Monday.
"He's a great player," O'Brien said. "He doesn't feel like any play is ever over. He's very accurate. He's got great players around him. He's got a real, real good offensive line and he's a great player."
Cornerback Johnathan Joseph spent his first five seasons in the NFL in Cincinnati. With a pair of contests against Roethlisberger every season in the AFC North, Joseph is very familiar with the Steelers' signal-caller.
"Hasn't changed since I started playing in this league in 2006," Joseph said. "He's the ultimate gamer, he gets in there, he lets it fly. When people say that, they say it loosely. It's not like he's playing bad football and making bad decisions, it's just that when he sees a chance, he's going to take his chance. That's just the mentality he has."
In addtion to his willingness to gamble, Clowney said Roethlisberger is a "special" player and tough to bring to the ground.
"It's like wrestling with a bear," Clowney said. "It's more of a wrestle than a chase. When you get to him, you've got to hold on to him. He's one of the biggest quarterbacks in the league."