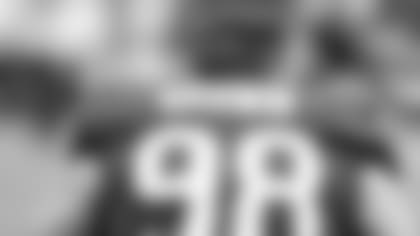 Here are five things to watch for the Texans in free agency, which begins on Tuesday at 3 p.m. CT:
1. Quiet status quo: Don't expect the Texans to do much in free agency aside from trying to re-sign their own players. Their philosophy under general manager Rick Smith has been to build through the draft, re-sign core players and supplement selectively in free agency.
The Texans made a big splash in free agency in 2011 with Johnathan Joseph and Danieal Manning. Otherwise, they have been relatively quiet in the last five years while Smith has re-signed the likes of running back Arian Foster (2012), left tackle Duane Brown (2012), quarterback Matt Schaub (2012), tight end Owen Daniels (2011) and wide receiver Andre Johnson (2010).
Recent history suggests that when the Texans do sign players from other teams, it might be after the dust has settled on major moves around the league. Last year, free agency began on March 13. The Texans didn't sign an external free agent until punter Donnie Jones on March 30. Their next signing was inside linebacker Bradie James on April 13.
2. Quin: One of the Texans' top priorities in free agency will likely be re-signing free safety Glover Quin, who some observers thought they might use the franchise tag on last week.
Quin said after the season that he wanted to stay with the Texans and was "pretty optimistic" something would get done. A fourth-round draft pick in 2009, Quin played cornerback for two seasons before transitioning to safety under Wade Phillips. He's particularly valuable to the Texans because he's physical, smart and can line up in the slot, giving them flexibility with their nickel defense.
If the Texans don't re-sign Quin, safety will become a major priority as they don't have a replacement waiting on the roster. Shiloh Keo, a fifth-round pick in 2011, played sparingly on defense in 2012. Eddie Pleasant, undrafted of Oregon last year, wasn't called up to the active roster until late in the season.
3. Barwin: Re-signing outside linebacker Connor Barwin is also high on the Texans' list of priorities, as Smith said at the Combine.
A second-round pick in 2009, Barwin led the Texans with 11.5 sacks in 2011. He had just three sacks in 2012 but played 94 percent of the Texans' defensive snaps, more than any other player in the front seven. He has started at both Sam and Will linebacker in the past two seasons.
If the Texans re-sign Barwin, they could move Brooks Reed to inside linebacker next to Brian Cushing. Barwin and Whitney Mercilus, a 2012 first-round pick who had six sacks as a rookie, would start outside. If Barwin goes elsewhere, Reed would likely stay outside at Sam linebacker, and inside linebacker would remain among the Texans' top needs.
4. Second-level players: Quin and Barwin have gotten the most attention, but the Texans have several other key players who could create needs if they leave, including fullback James Casey and cornerback Brice McCain.
Casey, who lines up at multiple positions, was the lead blocker for Arian Foster in 2012 and set career highs with 34 catches for 330 yards and three touchdowns. McCain, who essentially starts for the Texans as their nickel corner, is coming off a foot injury but was one of the league's top corners in the slot in 2011.
Offensive tackle Ryan Harris, inside linebacker Tim Dobbins, running back Justin Forsett and cornerback Alan Ball were all key contributors off the bench last year. If the Texans don't re-sign them or players such as James and starting nose tackle Shaun Cody, they'll have to find replenish their depth at those spots in free agency or the draft.
5. Cap maneuvering: The Texans could negotiate contract extensions and re-negotiations or release players to try to free up money under the salary cap. A prime example is the release of wide receiver Kevin Walter, which was reported by multiple outlets on Tuesday afternoon.
Releasing Walter, a 10-year veteran, would reportedly save the Texans $2.5 million in cap space. The Texans do not release cap information, but spotrac.com says they would be $10.7 million under the cap with Walter off the payroll.
Other moves the Texans could make to free up cap money include contract extensions with Cushing and defensive end Antonio Smith, who are both in the final year of their contracts, or perhaps re-negotiating with Joseph or Johnson.
Twitter.com/NickScurfield