Mathis improving:During walk-through drills at the end of practice Friday, head coach Gary Kubiak pulled aside wide receiver Jerome Mathis and directed him to the adjacent practice field.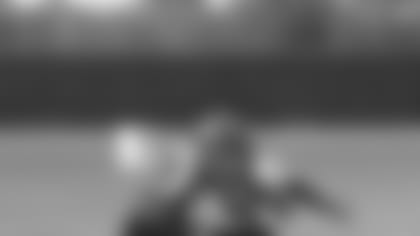 Once there, Kubiak had quarterback Quinton Porter throw some passes to Mathis, who lined up opposite defensive back Von Hutchins. Kubiak and general manager Rick Smith watched intently to see how crisp Mathis ran routes, exploded off the line of scrimmage and accelerated after the catch.
Months after suffering a broken foot, Mathis has taken huge strides in his recovery process, but it appears he has some more steps to make before Tuesday, which is the deadline to activate the Pro Bowl kick returner from the Physically Unable to Perform (PUP) list.
"I really didn't like what I saw early in the week, to be honest with you," Kubiak said Friday. "I liked it a little bit better yesterday. We worked him really hard today, wanted to see him do a few things. You know, that decision has to be made on Tuesday…I'd say I'm 50-50 on that right now, but we're going to work the heck out of him tomorrow.  He will not make the trip.  He'll stay back here and work, and then we'll make that decision Tuesday."
Johnson practices:Wide receiver Andre Johnson missed practice on Wednesday and Thursday while recovering from a bruised thigh he suffered against Buffalo. Today he finally was able to join his teammates on the practice field, and it appears he'll be in the lineup Sunday against the Jets.
"He practiced, so he'll be ready to go," Kubiak said. "You know, I think if he played today, he's not 100 percent, but not a lot of people are this time of year. He looks like he's going to be fine. Just get some more treatment tomorrow and turn it loose Sunday."
More injury concerns:The Texans' defensive line has been depleted most of the season with an assortment of injuries to several players. Rookie defensive end Mario Williams is the latest player to suffer through the aches and pains.
Williams has been nursing plantar fasciitis in his foot, and missed practice on Thursday. He participated gingerly in Friday's workout.
"I'm proud of the fact that he's working through it because that is something that he's going to have to do throughout his career," Kubiak said of Williams. "His teammates see what's he's doing. At the same time, I am disappointed that he's out there and he's not 100 percent, but we need him to play. I think it'll make him a better pro in the long run, but I know it's disappointing for him right now to not be at his best."
Williams has quite a challenge this weekend. He faces rookie tackle D'Brickashaw Ferguson in a matchup between the top overall draft pick and the fourth overall choice.
Déjà vu: Compared to three weeks ago, when the Texans traveled to New York for a matchup with the Giants, not much will change for the team this weekend aside from the opponent.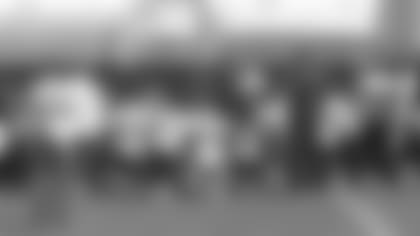 The Texans leave for the airport Saturday morning at the same time, will stay at the same hotel in New Jersey, and leave for the stadium Sunday at the same time as well.
Asked if the familiarity with the routine will help the Texans, Kubiak was not so sure.
"How much it helps? I don't know," Kubiak said. "It's still a tough place to play…Sometimes that Jets crowd is really something. I know that the times that I have been there they are really loud. So we have our work cut out for us."
After last week's heartbreaking loss to the Bills, Kubiak looks forward to seeing how the Texans bounce back in a hostile environment against the Jets.
"How we respond from our disappointment last week is going to say a lot about our guys," Kubiak said. "Did (the loss) hurt? Yeah, it hurt and it hurts everybody. In this league, when that happens to you, you have to let it go and move on to the next one.  When something good happens to you, you have to let it go and move on to the next one.  So it's just another thing for us to fight through and learn."