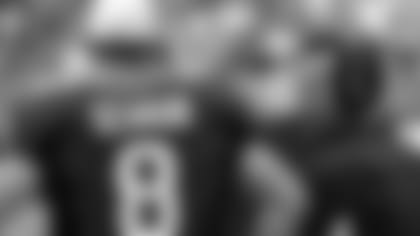 ]( "QB Matt Schaub and head coach Gary Kubiak")

The Texans' 2013 regular season schedule, which features four nationally-televised games, was released Thursday night.
The new season includes a late Monday Night Football opener at San Diego, Sunday Night Football at the NFC Champion San Francisco 49ers in Week 5, and a Sunday night matchup against the Indianapolis Colts at Reliant Stadium in Week 9.
Head coach Gary Kubiak expressed the challenges that come along with opening the season with a primetime Monday night matchup.
"The first thing, for me, it changes our training camp a little bit because anytime you're pushed back to a Monday opener, it changes when you can report and all those type of things," he said Thursday in a one-on-one with Drew Dougherty."The dynamics change a little bit. We'll be sitting around watching a lot of football over the weekend before we get a chance to play, contribute. I think it's a good opener, obviously, and it's gonna take great focus to go on the road Monday night and start the season the right way."
Kubiak sees the wealth of high-profile games on the Texans' schedule as a reward of sorts.
"The more success you have in this league, I think the more of those you get," he said. "Last year, we really handled that very well; I thought we showed a lot of mental toughness going to New York, some of the places we went and played on Monday night, going to Chicago, playing on Sunday night. Some of them made for tough trips, really challenges getting your team ready to go each particular weekend. But I think we grew with that last year and obviously, we'll face it again."
Quarterback Matt Schaub caught wind of the release while hosting an event for his Gr8 Hope Foundation at the Royal Sonesta Hotel on Thursday night. Like Kubiak, he relishes the chance to kick off the new season on the big stage.
"It's gonna to be exciting to open on primetime on the road against a very good football team," Schaub said of the Week 1 matchup at San Diego. "It's gonna be a good test for us coming out of training camp. It's exciting because Monday Night Football, everyone's watching you and you want to go out there and put you best foot forward, especially to start the season."
The Texans also travel to Baltimore to face the defending Super Bowl champion Ravens in Week 3. They host the Seattle Seahawks in Week 4 and the New England Patriots and Denver Broncos in December.
"I think we've got a very tough schedule, which you're gonna have whenever you go out there and win 12 games, " Kubiak said. "We know where we stand now. We know what's gonna happen. We knew we were gonna play a tough schedule, so now we get ready to do it."