Pro Bowl cornerback Aaron Glenn returned to practice Wednesday for the first time since his groin injury.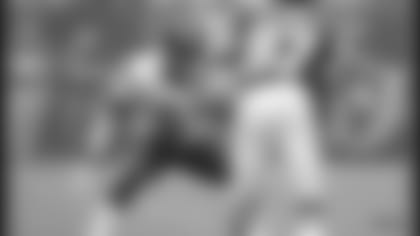 Glenn hasn't played since the first series of the Jacksonville game.
"I think he made it through practice well," head coach Dom Capers said. "He looked good. We'll have to see how he feels when he comes in tomorrow. We'll go through the week and make a decision on Aaron. But I thought it was a good start for him today."
Glenn injured his groin on Sept. 28 in the first quarter of Houston's win over Jacksonville. The Texans had a bye the following week, but since then Glenn has missed two regular season games. In the first three games of the season, the Texans yielded 218.3 passing yards per game. Without Glenn, Houston is yielding 281.3 passing yards over the last three games.
"Anytime you lose a Pro Bowl player, they're hard to replace," Capers said. "It's just good to see him back out here practicing, especially when you're going against a team like the Colts."
Indianapolis ranks fourth in the NFL in passing offense. Colts quarterback Peyton Manning is the AFC's second-leading passer and wide receiver Marvin Harrison leads the conference in both receptions (41) and receiving yards (587).
"Marvin is the best receiver in the game," Glenn said. "It's a toss-up between him and Randy (Moss). Any corner that's competitive wants to go up against the best."
Glenn's replacement, Kenny Wright, also returned to practice Wednesday after colliding with free safety Marlon McCree in the end zone during last Sunday's loss to the Jets.
"Kenny practiced today and I don't foresee any problems with Kenny being available and ready to play this weekend," Capers said.
         The
         Texans held an outdoor session Wednesday but will head inside the
         bubble the next two days with some noise accompaniment to prepare
         for the RCA Dome.