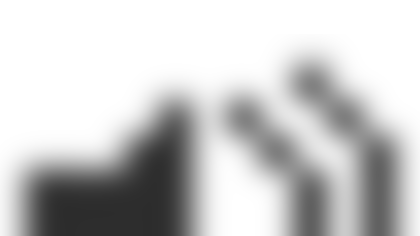 Carr halftime audio | Glenn halftime audio

Saturday night featured a series of firsts for the Texans. And it resulted in the team's first-ever preseason win at Reliant Stadium.

Houston defeated Dallas 18-0 in its first preseason game of 2004, thanks to stellar performances by the Texans' first-team offense, first-team defense and first-round picks.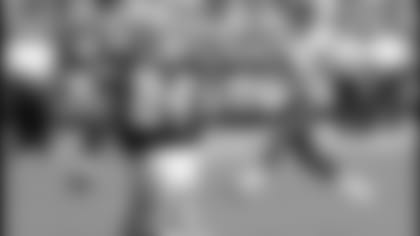 Quarterback David Carr completed 7 of 8 passes for 89 yards and one touchdown in two series of work, resulting in a 152.6 passer rating. Houston's defense shut out the Cowboys for 60 minutes and forced four turnovers, not to mention a safety. And the Texans' two first-round picks -- cornerback Dunta Robinson and linebacker Jason Babin -- fared well in their first taste of NFL action.

"I forgot how much fun it is," linebacker Kailee Wong said. "There is no doubt about it. It's a great feeling to be out there playing with the guys in the clean, crisp uniforms."

The Texans were 0-4 in home preseason games entering tonight, but a complete performance in all three phases ensured that the crowd of 70,431 went home happy -- and optimistic about Houston's third season.

"I like the approach our starters took," head coach Dom Capers said. "They came out and I think we established a tempo."

Indeed.

The Cowboys got the ball first at their own 18. Dallas quarterback Vinny Testaverde completed his first pass to wide receiver Terry Glenn for 13 yards and a first down. But Wong stopped George on 3rd and 1 at the Cowboys 42, forcing a punt. Rookie Vontez Duff returned it nine yards to the Texans 23.

On 2nd and 10, running back Tony Hollings (starting in place of Domanick Davis) burst through a nice hole on the left side and raced around the corner for 14 yards. Two plays later, Carr rolled out to his left and hit a wide-open Mark Bruener for 26 yards to the Cowboys 37. Bruener dragged a few Cowboys along for the ride to get some extra real estate.

"David did an outstanding check at the line of scrimmage to get me open," Bruener said. "I'm just glad I can help our offense and contribute any way that I can."

The Texans picked up one more first down on a pass from Carr to wide receiver Derick Armstrong, but the drive stalled at the Cowboys 18. Kris Brown booted a 36-yard field goal to give Houston a 3-0 lead.

Carr completed 4 of 5 passes for 45 yards on the drive.

The Cowboys managed to move the ball to their own 38, but linebacker Jay Foreman deflected a Testaverde pass on 3rd and 4, forcing another Dallas punt. Robinson made three tackles but was also flagged for illegal contact on Cowboys wide receiver Keyshawn Johnson.

On Houston's second series, Carr scrambled for 10 yards and a first down to the Texans 41. Two plays later, Carr ignited a wild play, tossing to Hollings as Cowboys safety Roy Williams blitzed. Hollings got a crushing block from guard Fred Weary and headed for daylight.

Hollings got all the way to the Cowboys 23, but Dallas cornerback Pete Hunter jarred the ball loose from him. Bruener made a heads-up recovery at the Cowboys 27.

Three plays later, Carr opened the second quarter by rolling right and firing a pinpoint strike to wide receiver Jabar Gaffney for a 12-yard touchdown. Nice way to cap two series of work.

"We just wanted to come out, like I said in training camp, and be consistent," Carr said at halftime. "Our team is just taking extra steps now and it's kind of exciting. Hopefully, we can keep it up."

Hollings finished with 89 total yards, rushing 15 times for 57 yards and catching two passes for 32 yards.

"It feels real good getting back into the swing of things," Hollings said. "The offensive line is doing a great job of blocking and finishing."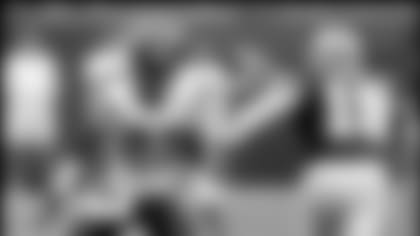 Both of Houston's first-rounders shined on Dallas' third series. Robinson broke up a long pass from Testaverde to wide receiver Antonio Bryant. Two plays later, Babin spinned past Dallas right tackle Torrin Tucker and stripped the ball from Testaverde. Fellow linebacker Antwan Peek recovered at the Cowboys 17.

Tony Banks came in at quarterback but didn't attempt a pass. The drive stalled at the Cowboys 7 and the Texans sent in backup kicker Todd Sievers, whose 25-yard field goal made it 13-0.

The Cowboys marched into Houston territory with just under three minutes left after wide receiver Patrick Crayton returned a punt 26 yards to the Texans 42. On 3rd and 7, Henson fired a 27-yard pass to wide receiver Randal Williams. Dallas was at the Texans 12 with 36 seconds remaining.

But two plays later, cornerback Jason Simmons stepped in front Henson's pass attempt to Bryant. His pick ensured the Texans could waltz into the locker room with a shutout.

Banks marched Houston down the field to open the second half, highlighted by a 28-yard pass to tight end Matt Murphy. Brown capped the drive with a 35-yard field goal.

Dallas bounced back as Henson hit Bryant for 16 yards and lofted a 26-yard pass to Crayton at the Texans 18. But rookie defensive end D.J. Renteria sacked Henson for seven yards, forcing a 46-yard field goal attempt by Billy Cundiff. He kicked it wide left and the shutout stood.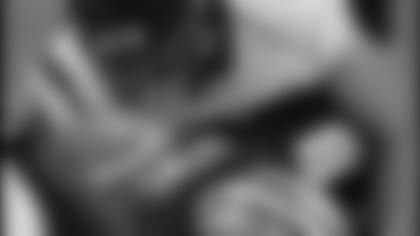 Henson finished 8 of 11 for 94 yards and one pick. Tony Romo replaced him at quarterback but threw an interception to free safety Marlon McCree at Houston's goal line, killing another Dallas drive into Texans territory.

Late in the game, Romo and the Cowboys were backed up to their seven-yard line when an errant shotgun snap eluded Romo, who fell on the ball in the end zone for a safety. It brought back some memories of Seth Payne's sack in the end zone in the Texans' first-ever regular season win.

OK, so this game doesn't count. But it's a nice start to the preseason. And it's always nice to beat Dallas.