The Houston Texans' first regular-season game of the season is less than a week away and two key starters are still a couple of days from knowing whether or not they will play.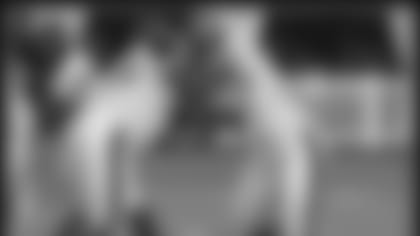 After working hard to rehab his sprained knee, McKinney has greatly improved and may play on Sunday at Miami.
Both center Steve McKinney, who is recovering from a knee sprain, and defensive end Gary Walker, who has a shoulder injury, are working hard to make it back on the field for their season-opening game at Miami. McKinney participated fully in today's practice and appears ready for action, while Walker is still nursing his tender left shoulder.
"Gary is still going to be day-to-day," head coach Dom Capers said. "Steve took part in everything today. I would say based off of practice today I would expect that (Steve will play Sunday)."
Walker's injury occurred during the Texans' third preseason game at Dallas when he chased quarterback Quincy Carter out of the pocket. When he dove for Carter's feet, Walker landed awkwardly on his shoulder. While the injury is not considered severe, coaches want to take every precaution to make sure that it does not become a chronic problem.
Today, Walker did some rehabilitation and was in good spirits. There are still a few more days left until the coaches decide whether or not he will play. It is possible that he will play during certain situations and sit out during others.
"(Gary) worked on a limited basis today," Capers said. "We've got four more days. Then you have to make a decision if he is active, how much would we use him. It could range all the way from not playing at all to pass rushing on third down to playing on first and second down. With his situation, we are just going to have to take it day to day and see what he can do as we go on in the week."
Besides McKinney and Walker, offensive guard Ed Ta'amu and safety Travares Tillman also sat out practice today. Ta'amu remains on the physically unable to perform list with a knee injury, while Tillman is still recovering from a broken forearm suffered in the Texans' scrimmage against the Cowboys.