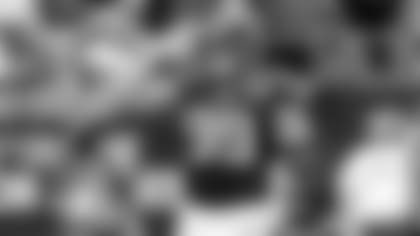 Texans defensive end J.J. Watt is part of a group of NFL players continuing an NFL-USO tradition initiated more than 45 years ago as they prepare to take part in a weeklong visit to U.S. troops at military bases throughout the Middle East.
Watt, Denver Broncos cornerback Champ Bailey and linebacker Von Miller, Carolina Panthers wide receiver Steve Smith, Cleveland Browns linebacker D'Qwell Jackson and Tampa Bay Buccaneers guard Davin Joseph will travel to the Middle East to spend time with service members. This is the first NFL-USO tour abroad for each of the players.
The NFL and USO have organized overseas morale-building visits for more than 45 years. In 1966, the NFL teamed with the USO and became the first sports organization to send a group of players to Vietnam and other parts of Asia to demonstrate the league's support for America's troops. NFL icons including Terry Bradshaw, Larry Csonka, Franco Harris, Howie Long, Don Meredith, Lynn Swann and Johnny Unitas have visited troops on NFL-USO tours in Afghanistan, Bosnia, Iraq, Japan, Korea, Kuwait and Somalia.
Texans head coach Gary Kubiak went on the NFL-USO coaches tour in 2011. Former Texans Eric Winston (2012) and Mario Williams (2010) also went on NFL-USO tours as members of the Texans.
Watt had one of the best seasons by a defensive player in NFL history in 2012. He led the NFL with 20.5 sacks, which tied for the sixth-most in a season in league history, and had 16 passes defensed, the most ever for a defensive lineman. He was named Associated Press Defensive Player of the Year and earned first-team All Pro and Pro Bowl recognition for the first time. Watt, 23, founded and serves on the board of directors of the Justin J. Watt Foundation, which provides support to after-school athletic programs in Wisconsin and Texas.
Twitter.com/NickScurfield