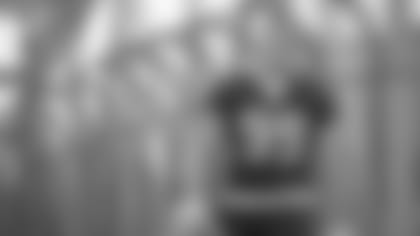 Texans defensive end J.J. Watt isn't one to dwell on past disappointments. In fact, the 2012 Defensive Player of the Year claims the final game of the season, a 41-28 second-round playoff loss at the New England Patriots, is permanently removed from his mind.
"I don't remember one bit," Watt said in an interview following day one of Texans OTAs. "I'm focused on 2013. That's all I can look at and 2013 is going to be even bigger and better for the Houston Texans, myself and everybody involved in this organization."
The promise of a brighter 2013 is something Watt's been working hard on this offseason. From doing two-a-day workouts three times a week to eating healthy, improving on his already-exceptional performance in 2012 has been Watt's number one priority.
"Last year was fun, but nowhere near my potential," he said. "I've got a lot more to go and it started right here today with day one. I look forward to a lot of success this season.
"I've got a whole 'nother year under my belt. I have more experience, a lot more confidence. I'm bigger, faster, and stronger; it's going to help out."