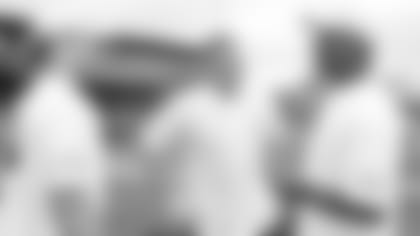 ]( "(L-R) Texans OLB Bryan Braman, DE J.J. Watt and DE Antonio Smith")
Texans players showed off their softball skills in front of a sold-out crowd at Constellation Field in Sugarland at the first annual J.J. Watt Charity Classic on Saturday. The event raised $300,000 for the J.J. Watt Foundation, which provides after-school opportunities for children in the community.

Watt, the 2012 NFL Defensive Player of the Year, had a blast at the game and was humbled by the outpouring of support from fans.
"Couldn't have scripted this any better, couldn't have asked for a better crowd, better players, a better product on the field," Watt said. "Over $300,000 raised for my foundation to help out the kids, it's gonna change so many lives and make such a big impactm so I need to say thank you to the fans."
Watt likened the energy of the crowd at the home stadium of the Sugarland Skeeters, a minor league baseball team, to the one he feels at Reliant Stadium on a fall Sunday afternoon.
"No fan left, everybody stayed in their seats the entire game, they were loud the whole game," he said. "It was special."
Texans wide receiver Andre Johnson played on the offensive team opposite Watt and his other defensive teammates. After a rusty start, Johnson got into the groove and even hit a home run.
"It's a lot of fun, great camaraderie just being around your teammates to do something like this," Johnson said. "I was actually shocked about the crowd. I didn't realize how many people would be here and we'd be playing in front of. Looking forward to it next year. It just goes to show how our fans support what we do in the community. (To) raise $300,000 at an event like this is awesome. It goes back to the community, and as long as J.J. does this, I'll be there to support."
Texans quarterback Matt Schaub won a home run derby that was held before the softball game. Safety Shiloh Keo won the game for the defense with a walk-off home run.
Throwing out the first pitch were the three Berry children – Peter, Aaron and Willa – whose parents were killed in a tragic car accident in July 2011. Watt has become a big brother-type to the kids, taking them to concerts, Texans games and the like.
"To have them there, to have me there, to have a sellout crowd, to see all the 99 jerseys in the stands, to see all my teammates there, you just have to take a second and look around," Watt said. "This is real life. This is unbelievable."