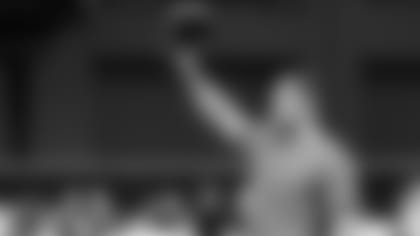 It wasn't a strike, but it was fast. Near 75 mph, rumor has it.
Texans defensive end J.J. Watt's ceremonial first pitch kicked off the 2013 Major League Baseball season on Sunday night, setting the stage before the Houston Astros beat the in-state rival Texas Rangers 8-2 at Minute Maid Park.
Watt had been practicing for the moment for a few days, throwing a bullpen session Wednesday. He also participated in the Astros' batting practice on Friday, hitting a home run deep into the seats beyond the left-field fence.
On Sunday at Minute Maid Park, Watt walked out to a roaring, sellout crowd that erupted when he changed into a customized orange Astros jersey and approached the mound.
Watt did a full warm-up down the first base line before throwing the first pitch – unconventional for ceremonial tossers, standard for the notoriously hard-working perfectionist that is Watt. For the main event, he threw a heater that was rather low and outside but carried some major velocity.
Watt has expressed his support for all Houston sports franchises and even wore a Craig Biggio jersey to a Texans press conference in January when the Astros legend was up for induction into the baseball Hall of Fame.
"That's what I love about this city; everybody intermingles, everybody comes together," Watt said Friday after batting practice via Astros.com. "Rockets, Astros, Texans, Dynamo, whatever it is, we all come together, and that's what's so much fun about this city."