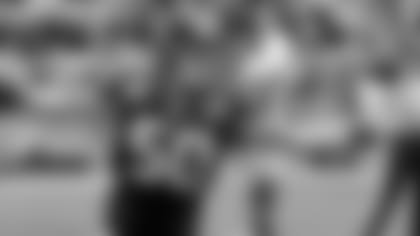 Texans fullback James Casey and special teams standout Bryan Braman have been named to USA Today's 21st annual All-Joe Team.
The All-Joe Team honors "unsung Joes" around the NFL, workmanlike players who have never been named to the Pro Bowl. Casey and Braman were both Pro Bowl alternates in 2012.
Here's what USA Today wrote about the Texans' two 2012 All-Joes:
Fullback — James Casey (Texans): Versatility personified. He's played quite a bit of tight end for Houston but settled in last season as the lead blocker for Arian Foster, who churned out 1,424 yards. Casey once played seven positions in one game while attending Rice and could probably spell Texans quarterback Matt Schaub in a pinch. After all, Casey spent three years pitching in the Chicago White Sox farm system.
Special Teams Ace — Bryan Braman (Texans): Playing as if his flowing hair was on fire, he blocked two punts, both returned for Houston TDs (one by Braman himself) and was a demon in coverage, making a team-high 16 special-teams tackles.
Texans guard Mike Brisiel, running back Ben Tate, left tackle Duane Brown, defensive end J.J. Watt and outside linebacker Connor Barwin were on the All-Joe Team in 2011.
Twitter.com/NickScurfield