HOUSTON-The Texans made a bold statement on their opening series in front of a home Reliant Stadium crowd; today's showdown against the Jets would be all business. Stacey Mack's 10-yard scamper into the end zone to give the Texans an early 7-0 lead just minutes into the first quarter proved just that.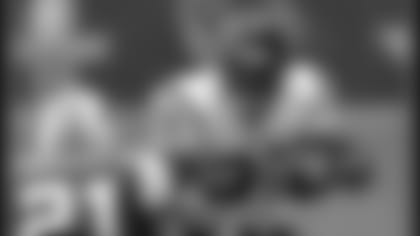 RB Domanick Davis led Houston in rushing (129 yards) and receiving (70 yards).
But the Texans weren't able to seal the deal and carry through on their mission as they allowed the New York offense to score on LaMont Jordan's eight-yard run with just 1:27 remaining in the game to give the Jets a 19-14 victory.
Texans RB Domanick Davis' 129 rushing yards set a new franchise record while he also chipped in 70 receiving yards for the day. It was not not only a career day in the professional ranks for the rookie, but Davis also surpassed a 122-yard single-game rushing high from his college days at Louisiana State.
"Well, I think we see that Domanick Davis can really give us something in both the run, he did a good job running today, and as a receiver," head coach Dom Capers said. "He has excellent hands. He catches the ball well. He's stronger than what most people think. He's got good vision, quickness in terms of running the ball. I think you'll continue to get better. Today was a good start for him."
The Texans collectively surpassed their former single-game rushing record (141, vs. Buffalo 10/13/02) with 169 yards on the ground while the Houston receivers collected 156 yards in the air.
Houston QB David Carr completed 15 of 23 passes for 170 yards and no interceptions while Jets passer Vinny Testaverde made 15 of 29 pass attempts for 182 yards and a touchdown.
New York received to start the game and Houston's defense put a quick end to an opening drive by forcing the Jets offense three-and-out.
Davis came out of the gate running with the opening three possessions to set up the Houston offense on the Jets 36. Carr hit WR Jabar Gaffney for eight yards before Davis picked up an additional 18 on two carries and a reception that set up Mack's 10-yard touchdown run.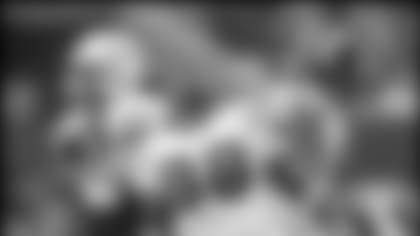 LB Antwan Peek unleashes a reserve of excitement after recording his first NFL sack.
Both squads exchanged punts and the Texans defense continued to take the field with aggressive intensity. DE Corey Sears and LB Antwan Peek stalked Testaverde, sacking him for a combined loss of 22 yards to force a Jets punt. Sears' takedown was his first this season and career second while Peek recorded his first NFL sack.
The Texans' offense continued its menacing plight for points when Carr engineered a 36-yard drive capped by a one-yard Mack leap into the end zone. Davis got the ball rolling with a 16-yard carry before Carr hit WR Andre Johnson down the sideline for a 37-yard gain to the Jets 5. Two plays later, Mack came in to rush for his second score of the day and extend Houston's lead 14-0. Mack's end zone dive marked the fifth time he has recorded multi-rushing touchdowns during his career.
Houston's defense held strong and forced another Jets punt, putting the ball back into the familiar hands of the Houston offense. Starting at their own 36, multiple carries by Davis and a 25-yard passing strike down the middle to Johnson helped catapult Houston towards mid-way field range. But the unit wasn't able to make it much further and punted the ball back to New York with under four minutes remaining in the half.
Testaverde and the Jets offense lined up at their own nine yard line and quickly moved into Houston territory as RB Curtis Martin scampered 14 yards to the New York 23 before Testaverde hit TE Anthony Becht on a 16-yarder. Testaverde then connected with WR Santana Moss for a 21-yard aerial gain down the New York sideline.
Texans head coach Dom Capers threw the red challenge flag, questioning whether Moss had both feet in bounds before diving to the sideline, but the ruling on the field stood and the Jets continued their scoring shot from the Houston 40. Two plays later, Testaverde found Moss in the end zone to put the Jets on the board heading into the locker room. Testaverde's experience in the pocket showed as he led the unit 91 yards in 2:16 to put the score at 14-7 still in favor of Houston.
On the touchdown, Texans CB Kenny Wright collided with a teammate's helmet while covering Moss and he sustained a head and neck injury which put him out for the remainder of the game.
The Texans controlled the play clock during the first two quarters, holding on the ball 18:32 while the Jets offense took the field for 11:28. Houston's offense led in all categories with 208 net yards, 106 of which were on the ground while 102 were in the air. New York accumulated 121 yards of offense, 60 rushing and 61 passing.
Houston took over to begin the second half but quickly called in Chad Stanley for punting duty. The Jets took over at their own 19 to start their first drive of the second half of play. New York wasn't able to generate enough first downs to substantiate a touchdown drive and Dan Stryzinski punted to give Houston possession.
Carr picked up five yards on the ground before Davis broke for a 12-yard run to boost his rushing yardage to 108 as he became the first 100-yard rusher in team history.
Carr hit Johnson down the middle for nine yards but on 3rd and 4, he was sacked for a seven-yard loss by Jets DE Shaun Ellis, bringing Stanley in to punt.
Testaverde began a quick march downfield after hitting Moss for 16 yards before dumping off a 14-yard pass to Becht. Testaverde then connected with Jordan and Sowell to put the Jets offense at the Houston 24. On 3rd and 6, the Texans defense stifled the New York offensive unit and K Doug Brien came out to attempt a 39-yard field goal. Brien split the uprights and lessened the scoring gap 14-10 still in favor of Houston.
The Texans weren't able to convert their next drive into points and New York found themselves in good field position at the Houston 39 after Moss returned Stanley's punt 26 yards. Houston's defense was doing a stellar job containing Testaverde and the Jets offense, but an offsides call on SS Eric Brown gave New York a first down with field position at the Houston 29.
With the help of 70,623 frenzied Texans fans, the Houston defense held strong while the Jets offense drove from the red zone. Testaverde sailed a pass deep into the end zone intended for WR Curtis Conway, but Texans CB Jason Bell's solid defensive play forced it incomplete as Brien came in and kicked a field goal to put the score at a nail-biting 14-13 in Houston's favor.
"I felt like the first half we dominated them (the Jets) offensively and defensively, but they have a lot of character and they showed it in the second half," DE Gary Walker said about giving up points in the second half. "They just came out and stuck to the game plan and played hard. The team is a reflection of their coach, and he has got a lot of compassion for the game too."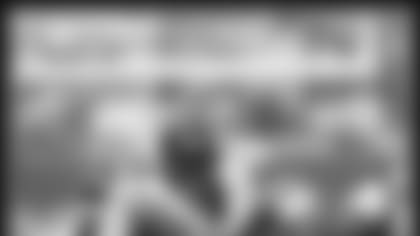 DE Gary Walker finished with four tackles including a key Curtis Martin stop for a six-yard loss.
Houston was forced to punt with just over six minutes remaining, putting the ball back into a hungry Jets offense. But Houston's DE Gary Walker was a little hungrier, starting things off by pummeling Martin for a six-yard loss. Two plays later, New York punted 36 yards and out of bounds at the New York 48. But the Texans offense was not able to produce a clutch first down and Stanley punted back to the Jets with just under three minutes remaining.
New York trounced 86 yards downfield after Martin ran for 14 and 20-yard carries to help set the Jets up at the eight yard-line. RB LaMont Jordan punched the scoring run in to put New York ahead 19-14. Walker batted down Testaverde's pass on a two-point conversion attempt and Stryzinkski punted the ball to Texans return man J.J. Moses who streaked down the field for an electrifying 63-yard return to put Houston at the New York 27.
With 1:04 remaining to manufacture a final come-from-behind scoring drive, Carr hit Davis for a 15-yard gain and Bradford for another seven, but on 4th and 4 with :27 remaining, Carr's pass ricocheted off of Andre Johnson's hands, sealing a Jets 19-14 win while Houston dropped to 2-4 with a trip to Indianapolis on next week's docket.
"It came down to a two-minute situation," Capers said. "They moved the ball down and the made their play. We got an excellent return from J.J. (Moses) to set us up with great field position with plenty of time left on the clock. We had our opportunity and we didn't make the play."
Houston converted 17 first downs while New York picked up a close 18. The Texans' offense produced 325 total yards to the Jets 296. But eight penalties for 50 yards in loss contributed to Houston's break-down in preserving a win, especially after controlling the clock almost ten minutes longer with 34:16 time of possession to the Jets 25:44.
Both New York and Houston's offensive lines gave up two quarterback sacks while neither Carr or Testaverde threw a pick.