Andre Johnson is a player that always places team goals in front of personal achievement. So Tuesday's announcement that Johnson has been selected for his second career Pro Bowl trip – and first as a starter – might have been a little anticlimactic given the Texans' disappointing record this season.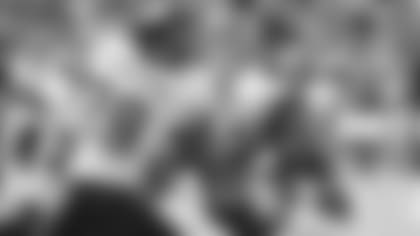 But as tough as this year has been collectively, it should not diminish what Johnson has accomplished individually in his fourth NFL season. The wide receiver from Miami becomes the first Texans player to make a repeat trip to the Pro Bowl after a record-breaking season. He not only has surpassed his previous career high in receptions, but he's on pace to set new personal marks in receiving yards and touchdown receptions.
Gary Kubiak predicted Johnson would have this type of year when the first-year head coach called No. 80 into his office before the season and asked him bluntly: How does 100 balls sound?
Today, it was Kubiak who told Johnson the good news.
"I was in the mall Christmas shopping and coach Kubiak called me and congratulated me and let me know that I had made it," Johnson said.
"I just smiled. I really didn't have a real big reaction. I just smiled and he told me, 'Congratulations,' and I just told him, 'Thanks.' It was great to know that I had accomplished my goal."
During the 2004 season, when Johnson was chosen for his first Pro Bowl, he collected 79 receptions for 1,142 yards and six touchdowns. With two games remaining this year, he already has a league-high 97 catches and ranks sixth in the NFL with 1,087 yards and five touchdowns. In addition, he has turned in four 100-yard receiving performances.
Johnson, who stands 6-3 and weighs 219 pounds, leads all AFC wide receivers in yards gained after the catch – 423 of his 1,087 yards (38.9 percent) have come after he caught the ball.
In his best game of the year against Miami in Week 4, Johnson earned AFC Offensive Player of the Week honors after he caught nine passes for 101 yards and the game-clinching touchdown to secure the Texans' 17-15 victory at Reliant Stadium.
All of the accolades that Johnson has received this year are even more gratifying considering he was sidelined three games last season with a calf injury.
"After the season last year, I was really anxious to get back and get this season started," Johnson said. "That was a personal goal of mine. I was just ready to get back in and try to do everything I could to help the team win. My personal goal was to make it back to the Pro Bowl."
The other wide receivers joining Johnon on the AFC Pro Bowl squad are Cincinnati's Chad Johnson (starter), and Indianapolis' Reggie Wayne and Marvin Harrison, who are both reserves.
Texans wide receiver Eric Moulds also might make the trip, but he'll be coming as Johnson's guest. The three-time Pro Bowler has provided a wealth of information for Johnson, who credits Moulds for teaching him the nuances of the game.
Johnson still has received double coverage, but tips from Moulds have helped him become more productive on underneath routes, which have accounted for many of his 52 first down catches this year.
"Eric has helped me out a whole lot this year and I'm definitely taking him over to Hawaii with me, if he's willing to go," Johnson said. "I'll let him know that he's helped me out a whole lot this season. He's just been a good mentor.
"That's something that I didn't have my first three years. Most guys when they come in they have a veteran guy to teach him the ins and outs of the game, and I didn't have that. Now I have Eric here and he's helped out a whole lot. When I'm out on the field doing things, he's watching me. And when he's doing things, I'm watching him. I definitely learned a lot from him."
Kubiak isn't surprised that his star player is heading for Honolulu. In fact, he expects Johnson to make many more vacations to the Aloha state before his playing career is over.
"I think he has a chance to be as good as there is in football because he is big, he's very fast, he's dynamic with the ball once it gets in his hands, he's very strong and has a chance to go the distance," Kubiak said earlier this season. "I was with Jerry Rice for one year, and this kid practices like Jerry Rice used to practice. And that's a very big compliment. And I think that makes him what he is because the kid really works at his trade. He loves to play."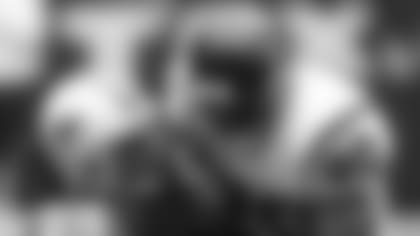 Including his trip to Hawaii after the 2004 season, Johnson's selection this year counts as the Texans' fifth Pro Bowl bid in team history. Cornerback Aaron Glenn and defensive tackle Gary Walker were Pro Bowlers in 2002, and kick returner Jerome Mathis made the AFC squad in 2005. Glenn is the only other player in team history to be named a Pro Bowl starter.
There was speculation that the Texans might receive two Pro Bowls bids this season considering rookie linebacker DeMeco Ryans' outstanding play. But the second-round draft pick from Alabama missed out despite ranking second in the NFL in tackles (137.0) and first in solo tackles (112.0), to go along with 3.5 sacks and an interception.
"I think DeMeco should be a (Pro Bowl) starter," Johnson said. "He's having a tremendous season. If you look at him playing on the field, you would never know that he was a rookie. This year, he's playing like he's a nine, 10-year veteran. Personally, I think he's our team's MVP this year. When you want to look for a guy out there every Sunday making plays, DeMeco is that guy."
Nevertheless, Ryans is a third alternate for the AFC Pro Bowl squad, meaning he'll be heading to Hawaii if three players ahead of him get injured.
The game will be played Feb. 10 at Aloha Stadium.