* HOUSTON* – The NFL announced today that Houston Texans WR Andre Johnson was named AFC Offensive Player of the Week, becoming the first Texan to win the offensive honor. Five Texans have won AFC Defensive Player.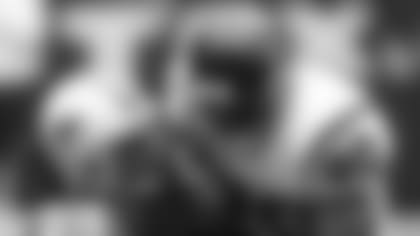 Johnson (6-3, 222), caught nine passes for 101 yards and the game-clinching touchdown to secure the Texans' 17-15 victory over the Miami Dolphins. Johnson now has an NFL-best three 100-yard receiving days on the season.
The Texans trailed, 6-3, going into the fourth quarter, but were sparked by Johnson's 30- yard grab as he wrestled through a double team on third-and-six to set Houston up at the seven-yard line.  Three plays later, QB David Carr found Johnson on a fade route at the back of the end zone to give Houston a 17-6 lead they would not relinquish.
Johnson, who was drafted in the first round of the 2003 draft from the University of Miami (Fla.), is tied for first in the NFL with 30 receptions and ranks third with 410 receiving yards, a mere three yards off the lead.  He recorded his 12th 100-yard receiving game on Sunday.  He now has five 100-receiving yard performances in his last six home games.  In his past two games, Johnson leads the NFL with 20 receptions and tops the AFC with 253 receiving yards.
The Texans now have six players that have picked up AFC Player of the Week honors. Johnson is the first Texan to be recognized since WR Jerome Mathis won the special teams award last season when he returned five kickoffs for 177 yards (35.4 yard average) against the Cleveland Browns.
Texans winners of the Player of the Week

Aaron Glenn Defensive 14 2002
Avion Black Special Teams 15 2002
Andre Johnson                Offensive                    4                     2006