Between their first two training camp practices, the Texans placed three players on the Physically Unable to Perform list Saturday.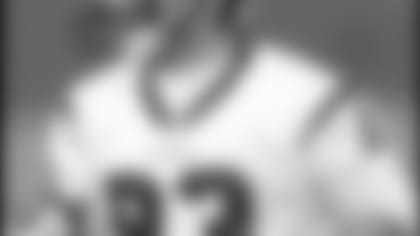 The Texans drafted Joppru in the second round of the 2003 draft.
Heading the list is second-year tight end
Bennie Joppru
, who missed all of his rookie season with a groin injury. Joppru participated in all of the team's off-season work but re-injured his groin since the Texans broke mini-camp on June 16.
Thus, Joppru has been placed on the Active/Non-Football Injury list. Quarterback
B.J. Symons
was also placed on that list since his knee injury occurred during his senior season at Texas Tech. The Texans drafted Symons in the seventh round of this year's draft.
Strong safety
Ramon Walker
, who injured his left knee in the Texans' Nov. 30 win over Atlanta last season, was placed on the Active/Physically Unable to Perform list. Walker, one of the team's top special teams players, is entering his third season.
All three players still count on the team's active list. A roster decision must be made on Joppru, Symons and Walker by the mandatory cutdown to 65 players on Aug. 31, two days before Houston's final preseason game. Any player on PUP can't be activated until after Week 6, which would be the Texans' Oct. 17 game at Tennessee.