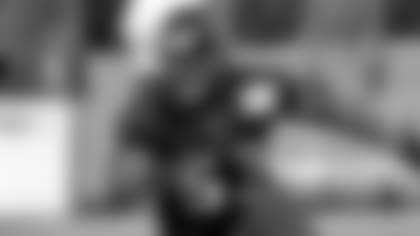 A day after signing with the Texans, inside linebacker Joe Mays hit the field with his new teammates and practiced in the Houston heat and humidity. Mays spent the past three seasons in the Rocky Mountains with the Broncos, and detailed the stark difference between training camps.
"The heat is definitely tough," You come out here, you're sweating, and you want to give up but you know you got to keep going."
Mays jumped right into work with the Texans at the Houston Methodist Training Center on Wednesday, practicing at times with the first-team defense. Coordinator Wade Phillips and assistant linebackers coach Bobby King worked with Mays, Brian Cushing and the rest of the inside linebackers during position group drills. The newest Texan was excited to be in Phillips' 3-4 defense.
"I love Coach Phillips," Mays said. "He lets the players play and the defense is player friendly, so he lets us go out there, attack, and make plays. That's definitely one of the reasons why I came here."
Mays acknowledged that he has to "try to pick up the playbook" as quickly as possible, but his presence on the field was a welcome sight to his new head coach.
"First off, his conditioning is good to come out here in this heat," Gary Kubiak said. "He held up the whole practice. I think it helped with us going in shorts today and not banging with him right away. He'll be a good addition to our team."
At times, Mays and Cushing were next to each other on the field working. When the two were on the sidelines, they could often be seen together talking. Cushing spoke highly of Mays after their first practice with each other.
"It's exciting bring him in," Cushing said. "I think he's a tremendous football player and he adds a lot to the team. Anytime you add a play maker like that it only makes you better."
Mays is also impressed with his new teammates. He cited the inside linebackers' work ethic when asked about the group, and he likes having the "opportunity to definitely fight" for a starting role next to Cushing.
Twitter.com/DoughertyDrew