Yesterday David Carr got a pretty good indication of his prospects for starting this Sunday against the Falcons.
"I couldn't actually play catch with my son yesterday, which is not good," Carr said Wednesday before practice.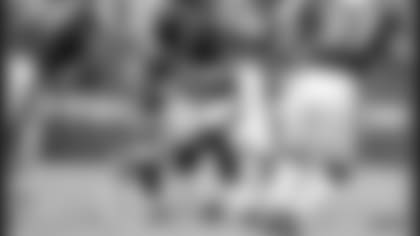 Actually, Carr's right shoulder feels better than it did last week, but expect Tony Banks to get his third start of the season for the Texans at quarterback.
Meanwhile, all indications from Atlanta are that Doug Johnson will start for the Falcons, delaying Michael Vick's return another week.
"We're not sure exactly what Michael will do," Falcons head coach Dan Reeves said. "We'll see how he does today in practice. But I just can't see him making that much progress where he couldn't even practice last week to where he'd be able to play this week.
""The best-case scenario would probably be that he's be the backup (quarterback), the second guy."
Vick hasn't seen any action this season after injuring his knee in preseason. Carr suffered a bruised AC joint in his throwing shoulder two weeks ago at Buffalo, causing him to miss Houston's overtime loss to New England. Carr did some light work today in shells, but won't return under center until he's 100 percent.
"It has to be 100 percent for me to play," he said. "If it was any other injury on any other part of my body, then I could play at 80 percent. I could play right now if it was my left shoulder. But you have to be pretty accurate in this league to complete half of your passes. We want to make sure it's 100 percent before I go out there."
Carr's range of motion with the right arm is improving, which is encouraging. But he still needs to test his velocity.
"The range of motion is all good," Carr said. "The farther back you go to throw the ball, the farther you have to stretch out the muscle and stretch out the tendon.
"I'm probably 70 percent. Right now it's at the point where I could play catch with you. But if I had to rip a ball like you have to do in a game to compete, it'd probably hurt a little bit right now."
Head coach Dom Capers said Carr is improving, but still isn't certain of his status for Sunday.
"David threw today and he has made improvement," Capers said. "We had him only take part in limited team work. He handed the ball off and threw with our trainers. We'll just have to continue to evaluate him.
"I don't want to declare Tony the starter today. I want to wait and see as we go on. Tony took all the reps today. If things don't change tomorrow, I'd say there's a very good probability that Tony would start."
Banks worked with the first team Wednesday as the Texans begin preparation for an Atlanta team that has just a 2-9 record. Houston is favored by three points, only the second time in 28 games the Texans have been on the left side of the betting line.
"They're playing better than their record indicates," Banks said. "Dan Reeves gets those guys ready to play. They've made some changes to the secondary the past couple of weeks but they get good pressure on the quarterback."
Atlanta plays lots of man-to-man coverage, which the Texans could exploit with their receivers -- provided they give Banks time to throw it downfield.
On offense, the Falcons have grown accustomed to playing without Vick, but now they'll have to adjust to life without Warrick Dunn. The running back was placed on injured reserve yesterday with a foot injury. Dunn had 672 rushing yards and 336 receiving yards, scoring five touchdowns. Atlanta will now turn to former first round pick T.J. Duckett, a bruising back who is the antithesis of Dunn.
Still, the Texans are cautious, especially considering the Falcons scored 31 points in their loss to Tennessee last Sunday.
"They have the ability to move the ball and we have to respect that regardless of whether Vick and Dunn are out," nose tackle Steve Martin said.
So the fabled David Carr vs. Michael Vick battle of consecutive top overall picks doesn't look likely. But there will be other opportunities. And both Houston and Atlanta just want a win to build a little momentum heading into December.
"It would be fun to play against him," Carr said. "If it works out and we're both on the field, great. If it doesn't, we'll just have to wait until next time."
"Yeah, you'd like to play Vick but…he can sit out a little while, that's no problem."
NOTES:The Texans placed running back Stacey Mack on injured reserve Wednesday with turf toe.
"The thing just progressively got worse," Capers said. "We decided to go ahead and put him on injured reserve."
Also, defensive end Gary Walker received a second opinion on his foot yesterday and the decision was made to immobilize his foot. He won't play Sunday.
"I can't tell you what that period of time will be, but they'll probably immobilize it for at least a week or two," Capers said.