April's NFL Draft seems like a long time ago. With the first selection, the Houston Texans made a statement in the direction of the franchise and emphasized the point that the easy decision is not always the right one.
Time will tell whether or not
made the right choice by selecting Mario Williams with the first pick of the 2006 NFL draft, but halfway through this season the pick is starting to look like a smart one. However, to be fair, it didn't look that way from the start.
During the preseason and for the first few weeks of regular season play, Williams struggled to get acclimated to the NFL game. The Texans were trying to use Williams' unique skills in a myriad of ways. Instead of lining up at right defensive end on every play, he was moving to the left side as well as inside to tackle. It did not go well.
"He's got a long way to go just like everybody else," Gary Kubiak said after
's opening day loss to the Philadelphia Eagles. "Inconsistent, did some things good early in the game and made a couple of plays early in the second half. But he needs to be consistent assignment-wise, gap-wise, those type of things. But really no different than anybody else who was on that field so he's got to get much better, as we all do."
Two weeks later, following
's loss to the Washington Redskins at Reliant Stadium, Kubiak's comments only got harsher about his first overall pick.
"I was disappointed in his play," Kubiak said bluntly. "I was disappointed in the way he played. There were some communication issues that we have to get corrected with him and what we're expecting him to do in some certain situations. And we'll get those corrected. But he's done some things and progressed and done some things, but he did not do that this week."
Some wondered how the rookie would respond to such hard criticism. After all, when Williams took the field to begin the 2006 season, he became the youngest player ever to suit up for the Texans at 21 years, 223 days old. Two days after Kubiak's comments, Williams spoke out.
"I feel like it was well deserved," Williams said of his coach's criticism. "Obviously the production has not been where everybody anticipated, not just you guys, but myself…I have to step up to the plate and be the leader on the field. I realize that, and I just have to go out and get better everyday and help the team out."
And with that Williams seemed to have turned a corner and his play followed suit.
's first win of the season, a 17-15 victory over the Miami Dolphins, Williams recorded 1.5 sacks, including the first of his career, but perhaps his most important play was made with very little fanfare at the time. Trailing by two points with almost no time remaining, the Dolphins lined up for a two point conversion that could have tied the game. Williams made a game-saving pass deflection, preserving the
an average of 1.6 yards per play.
A week later against Jacksonville at Reliant Stadium, Williams collected a sack and two quarterback hurries, but perhaps his biggest play of the game came when he fell on a loose ball after Jacksonville running back Fred Taylor fumbled deep in Texans' territory.
's offense converted the turnover to seven points, putting the game out of reach.
When Houston traveled to Nashville seven days later, Williams was at the forefront again. With Vince Young at quarterback for the Titans, the first meeting between the Titans and Texans of 2006 was billed by many as a matchup between the player
took in the NFL Draft and a player the Texans could have taken.
Williams responded by sacking Titans quarterback Vince Young and finished the game with four total tackles and a quarterback hurry to go along with his sack.
Last week against the Giants, Williams might have played his best game of the season finishing the game with three tackles, including another sack, and two more quarterback hurries as Williams became a fixture in the Giants' backfield. And on Monday, Kubiak singled-out Williams again, only this time in a positive manner.
"He played pretty dang good," Kubiak said of Williams' effort against the Giants. "He had a period there in the second quarter where he played as good as I've seen all year. He was dominant during that period of the game."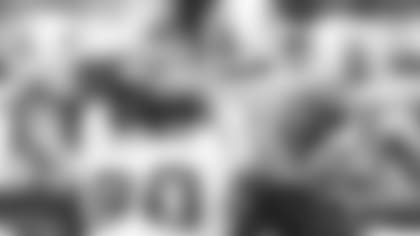 Opposing players have started to take notice of Williams as well. Asked about Williams during the Giants conference call last week to
media, Giants defensive end Michael Strahan didn't hesitate to predict a bright future.
"He's a good player, he's big, he's strong, he's fast, and he's got all the tools that are going to be needed to him to be successful," Strahan said. "But when I watched him play after he got that first sack in the Miami game I was watching when I was in
(during the Giants bye week), all of a sudden this wrap came off. He was able to play a little bit looser. He was able to enjoy the game a little bit more without all that pressure that everybody's putting on him."
Strahan's teammate Bob Whitfield probably wishes the wrap had stayed on. Whitfield, a 15-year NFL veteran was asked of what he thought of Williams following
's 14-10 loss Sunday. He didn't hold back.
"The son of a gun is almost inhuman out there for how big and thick and solid he is," Whitfield said. "And I caught it firsthand because I said to myself, Don't give the young kid a sack.' But I don't call it a sack when he actually dislocates your whole left side of your body when he hit me. It was almost like he needed to have a penalty for tearing up an old man. I actually told him,Slow it down, young fellow.' He's strong. He's big. He's got it. He's going to be a force to be reckoned with."
With 4.5 sacks, Williams has already established a new franchise record for sacks by a rookie. At his current pace, he would set the single-season mark for sacks by any player. With eight games ahead this season and countless years ahead in the