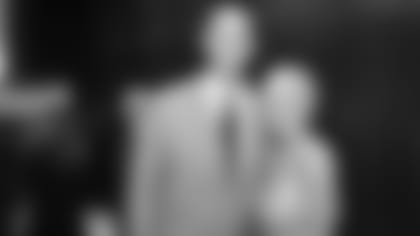 ]( "Matt Schaub and his wife Laurie")

Quarterback Matt Schaub is one of the Texans' leaders on the field and in the locker room. He's also among their leaders in the community.
Schaub and his wife, Laurie, started the GR8 Hope Foundation in 2011 to provide resources and a positive impact on children needing medical attention and their families. They have raised more than half a million dollars in the last three years.
"It's very rewarding," Schaub said. "Even before our foundation started three years ago, we would go and volunteer at the hospital and go and see the kids, and I think they did more for us than we would do for them. To see their smiles, to see their outlook, their perspective on life and the positivity that they had despite going through some of the most dire circumstances did so much for us and lifted us up and made us realize how incredible these kids are. So for us to do a little bit for them and help the children in this community is just the least that we could do."
The Schaubs hosted their third annual "Hope Can Heal" Gala and GR8 Hope Golf Classic two weeks ago at the Royal Sonesta Hotel and the Redstone Golf Club in Houston. It was attended by 38 Texans players, coaches, and staff. The event raised $308,000 in 2011 and 2012.
Schaub is one of 13 quarterbacks in the NFL with his own foundation. The mission of GR8 Hope is "to provide resources and support to promote lasting improvements and bring healing to children with medical needs, hope for our future generations and happiness to the children and their families enduring medical challenges."
Through their foundation, the Schaubs have started a fundraising campaign to make a $1 million gift to a local children's hospital this year to expand the emergency room.
"The support of the Houston community that we've received over the first three years is just incredible," Schaub said. "We're really excited about our goal and our project that we have going this year."
Twitter.com/NickScurfield