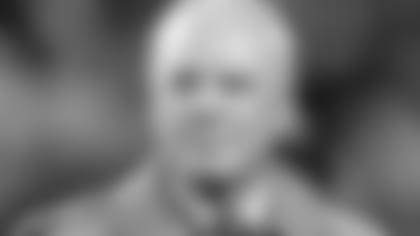 ]( "Texans chairman and CEO Bob McNair")

With free agency and the draft approaching in the next few months, the Texans have a number of areas they would like to strengthen.
Team chairman and CEO Bob McNair said as much on Thursday.
"We need more depth at the inside linebacker (position), we need more depth with our offensive line interior and we need another wide receiver, and we could use another cornerback or free safety," said McNair, who's in New Orleans for Super Bowl week. "That's it. Everything else is really in good shape. We've got the core group together, we just need to add a few more pieces here or there, and I think we can do that through the draft."
That implies the Texans won't be major players in free agency, which begins on March 12. That wouldn't be a surprise given McNair and executive vice president of football operations/general manager Rick Smith's long-standing preference of building the team through the draft.
The Texans also have several free agents of their own that they might try to re-sign, including free safety Glover Quin, outside linebacker Connor Barwin, fullback James Casey and cornerback Brice McCain. And then there's the issue of the salary cap, which the Texans were tight against in 2012.
"The main thing that this organization tries to do is sign those players that are already on our team so that we can keep that core group of players together, and we think that's more important than going out and signing expensive free agents," McNair said. "You don't know how they're going to fit in, you don't know how long they'll last and you don't know how they'll fit in your locker room. Usually, that's a bad investment."
Three of the Texans' other impending free agents are veteran inside linebackers Bradie James, Tim Dobbins and Barrett Ruud. Inside linebacker Darryl Sharpton, who spent the first half of this season on the Physically Unable to Perform list, has ended each of his three NFL seasons on injured reserve. Team captain Brian Cushing is coming off a season-ending knee injury.
The right side of the Texans' offensive line featured season-long rotations at right guard and right tackle in 2012. Second-year pro Derek Newton was the primary starter at right tackle. Rookies Ben Jones and Brandon Brooks had a 50-50 rotation at right guard by the end of the season.
At wide receiver, the Texans are still looking for someone to emerge aside from veteran starters Andre Johnson and Kevin Walter. Both are 31 and will be in their 11th seasons in 2013. Rookie DeVier Posey emerged as a potential starter at the end of 2012, but his immediate future is uncertain after he tore his Achilles in the playoffs. Other young receivers on the Texans' roster are Keshawn Martin, Lestar Jean and Jeff Maehl.
After a franchise-best 12-4 season, the Texans have the 27th overall pick in the 2013 draft. McNair was asked if he expects his team to prioritize drafting a wide receiver.
"It depends on what's available when our pick comes up," he said. "If we had an outstanding wide receiver who was available at that point in time, I don't doubt we'd take him. If there was a football player that was a better player that was an inside linebacker than the wide receiver that's available, we'd take him. We're going to take the best player that's available. We got a number of positions where we could use the player, so we're not limited to just one position looking for that player."
Twitter.com/NickScurfield