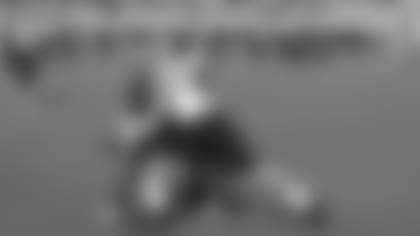 ]( "Texas A&M WR Ryan Swope")


Mobile, AL-- The 2013 Senior Bowl practices began Monday afternoon, with the South squad working out at Fairhope Stadium in Fairhope, while the North got started at Ladd-Peeples Stadium in Mobile. The annual college all-star game will take place Saturday afternoon at the latter venue, with the week of practices flooded with NFL front-office personnel, the media and fans.
The Georgia Bulldogs have five players participating in the game, and HoustonTexans.com was able to catch up with a pair of defenders after the South practice. Tackle John Jenkins (6-3, 359) was all smiles afterward, and is confident he can show he's able to get to the quarterback.
"With me being so big and able to pass rush, some people question my ability to pass rush," Jenkins said. "But that's what I'm here for:  to answer all the questions."
Jenkins finished the 2012 season with 50 tackles and 15 quarterback pressures.
Fellow Bullldog Cornelius Washington (6-4, 264) practiced with the South on Monday, and believes he can play in any type of defense.
"I can do both," Washington said. "I played the 3-4 my last few years in college, but I started out playing the 4-3. I can put my hand down in the dirt, or I can stand up and rush. It really doesn't matter to me."
A pair of Aggies also spoke on Monday, including linebacker Sean Porter (6-1, 231), who said the week to come will be a challenge in one specific way.
"They got a hectic schedule going on," Porter said. "Practice is high-tempo, and everything around you is high-tempo. You got a lot of meetings to go to, so just keeping track of everything and staying on schedule is probably the biggest challenge this week."
Porter said he too is capable of excelling in either a 3-4 or 4-3 defense, and cited former Aggie and current Denver Bronco Von Miller as a player he models his game after, in addition to Kansas City Chief Derrick Johnson.
Texas A&M receiver Ryan Swope (6-0, 204) caught passes on Monday from Florida State's E.J. Manuel (6-4, 237), Oklahoma's Landry Jones (6-3, 221) and Tyler Wilson (6-2, 218) of Arkansas.
After playing for head coaches Mike Sherman and Kevin Sumlin during his college career, Swope feels well prepared for the NFL. He thinks that preparation, and the way to go about practicing will show this week in front of scouts and front office types.
"I practice hard," Swope said. "I learned really well at Texas A&M to practice hard and leave everything on the field."
Rice tight end Vance McDonald (6-4, 262) is the lone Owl at the Senior Bowl, and spent much of his collegiate career at wide receiver. He's practicing this week with the tight ends, and spoke about the challenge of playing more physically.
"I'm just showing scouts and teams that I'm really physical when it comes to the line," McDonald said. "Improving my blocking and showing that one piece of football that the tight end's really missing."
twitter.com/DoughertyDrew